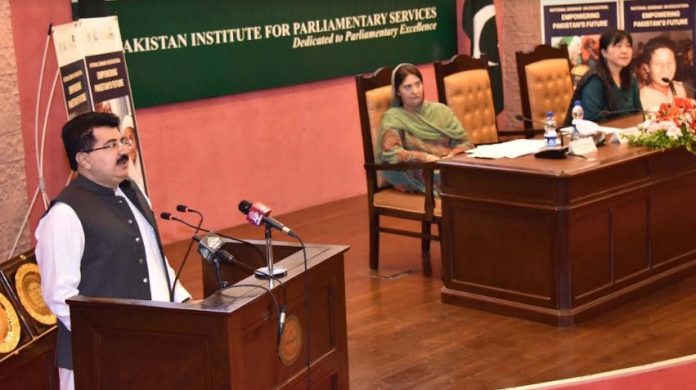 Islamabad, 20 July /DNA/ – Today, Chairman Senate Muhammad Sadiq Sanjrani graced a seminar on education jointly organized by the Education Parliamentarians Caucus (EPC), the Japan International Cooperation Agency (JICA), and the Pakistan Institute for Parliamentary Services (PIPS). The event, held in Islamabad, brought together representatives and experts in the field of education.
During his speech at the seminar, Chairman Senate Muhammad Sadiq Sanjrani introduced recently established Education Parliamentarians Caucus in the Senate of Pakistan. Emphasizing the need for improved coordination between provincial and federal levels, the Chairman highlighted that the caucus's primary objective is to provide a platform for collaboration among the provinces, the federation, and educational institutions.
"The purpose of setting up the education caucus in the Senate is to foster dialogue and cooperation, creating a collaborative approach towards enhancing education standards in Pakistan," said Chairman Senate.
In his address, Chairman Senate Sanjrani expressed hope that friendly countries and organizations, including Japan, will extend technical support to bolster the education sector in Pakistan. He acknowledged the significance of learning from Japan's development experiences and encouraged sending teachers abroad for training and exposure to enrich their knowledge.
"Knowledge is the real jewel, and education goes beyond mere degrees and certificates. We must invest in skill development for our children, and identify the reasons behind our lag in the education domain," Chairman Senate asserted.
He stressed the importance of investing in teacher recruitment, training, professional development, and curriculum reforms to promote digital literacy. The Chairman also highlighted the need to explore alternative and innovative educational models to further advance the education landscape in the country.
During the seminar, Chairman Senate Sanjrani urged all participants to actively identify current challenges and obstacles facing the education system and work collaboratively to overcome them.
Chairman Senate expressed gratitude to all stakeholders, particularly the Education Parliamentarians Caucus, Japan International Cooperation Agency (JICA), PIPS and other contributing organizations for their efforts in organizing the seminar and promoting educational development in Pakistan.