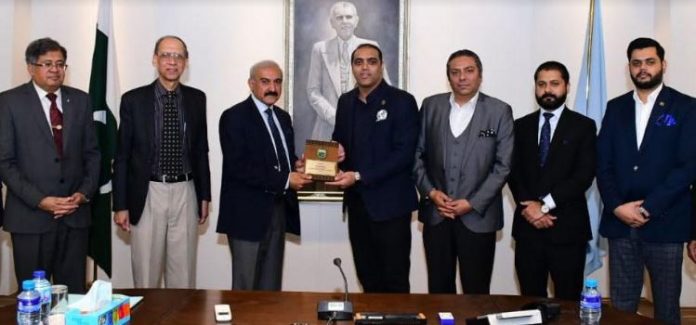 Islamabad, MAR 7 /DNA/ – The developed countries have achieved phenomenal economic growth by promoting strong academia-industry linkages and Pakistan has to adopt the same approach to promote industrialization and improve its economic growth. This was said by Faad Waheed, Acting President, Islamabad Chamber of Commerce & Industry during his visit to Centre of Research, Innovation and Commercialization (ORIC) of Air University, Islamabad along with a delegation.
Faad Waheed said that universities are producing many research projects, but they are not benefiting the local industry as they are not oriented to resolving the industrial problems. He said that with close academia-industry linkages, universities can help in improving the efficiency, productivity and competitiveness of local industry and producing value-added products to boost exports. He stressed that universities should focus on applied research that would help in addressing major problems of the society. He said that ICCI is ready to provide mentorship & career counselling to students, facilitate their placement as interns in local industry and help in commercialization of innovative business ideas of students. He emphasized that the universities should focus on fostering entrepreneurship in students that would enable them to promote business start-ups and play an active role in the economic development of the country.
Speaking at the occasion, Air Marshal Javaid Ahmed HI(M) Retd, Vice Chancellor, Air University, Islamabad welcomed the ICCI delegation and said that close cooperation between Air University and ICCI would produce beneficial outcomes for students and industry. He said that the industry should share its problems with universities so that academia can make efforts to resolve them. He hoped that ICCI's efforts would contribute in improving linkages between the academia and the industry that would lead to accelerated growth of the economy.
Air Cdr. (Retd) Afzaal Ahmed, Director ORIC, Air University gave a detailed briefing to the ICCI delegation on industrial laboratories and other industrial innovations.
Adnan Mukhtar, Dr. Muhammad Usman, Muhammad Naveed Malik, Zareef Khan, Zia Khalid Chaudhry and others were in the ICCI delegation.