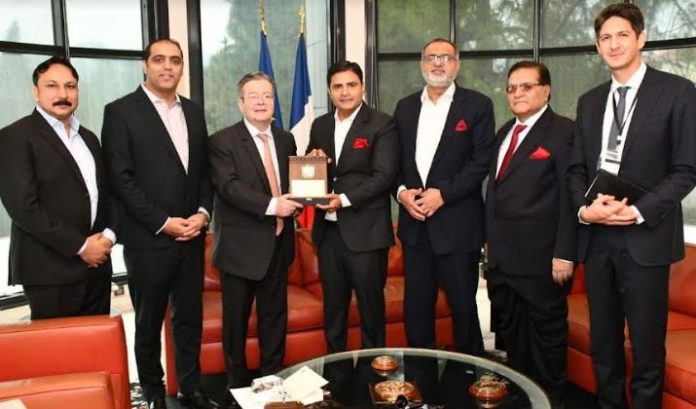 Islamabad, APR 19 /DNA/ – Ahsan Zafar Bakhtawari, President, Islamabad Chamber of Commerce & Industry (ICCI) leading a delegation called on H.E. Nicolas GALEY Ambassador of France and discussed with him matters for further improving bilateral trade and economic relations between Pakistan and France. Laurent Chopiton, Economic Counselor of France Embassy was also present on the occasion.
Ahsan Zafar Bakhtawari said that the current volume of bilateral trade of around USD 2 billion between Pakistan and France is not up to the actual potential of both countries as they have good potential to further enhance it. He stressed for strong business linkages between the private sectors of Pakistan and France to explore new vistas of mutual cooperation. He said that France had supported Pakistan for EU's GSP Plus scheme and it can cooperate with Pakistan in many sectors including energy, IT, agriculture, livestock and tourism. He said that Pakistan is a huge market of around 223 million consumers and France should focus on Pakistan for business and investment. He said that ICCI plans to organize a Pakistan-France Business Forum to improve business relations between the two countries. He said that the French companies working in Pakistan shall also be invited to share their experiences and said that the Embassy should cooperate with ICCI for the Forum. He invited the Ambassador to visit ICCI for an interaction with the business community.
Addressing the delegation, H.E. Nicolas GALEY, Ambassador of France in Pakistan said that France considers Pakistan an important country and wants to have more business relations with it. He said that Pakistan should focus on the EU's parliament for the continuity of the GSP Plus scheme. He said that a French Alumni group would be activated to enhance the cooperation between the two countries. He said that whenever a French business delegation visits Pakistan, he would connect them with ICCI. He said that close cooperation between ICCI and French Chambers of Commerce & Industry can help to explore untapped areas of business cooperation between the two countries. He said that Pakistan's current difficult economic situation is transitory and Pakistan can attract more investment by addressing the issue of its currency fluctuation. He said that France and Pakistan have signed a roadmap for bilateral cooperation to strengthen relations in all fields of mutual interests including economic development, science & technology, education, culture, tourism, defence, climate change and hoped that it would produce good results for both countries.
Faad Waheed, Senior Vice President ICCI said that Pakistan France Business Alliance is working in Karachi and its Chapter should also be opened in Islamabad
to promote mutual understanding and friendly relations between the business communities of Pakistan and France.
Engr. Muhammad Azhar ul Islam Zafar said that many French companies are already working in Pakistan and more should come to explore joint ventures and investment in areas of interest.
Zafar Bakhtawari former President ICCI Faizan Shahzad also shared useful ideas to promote trade and economic relations between Pakistan and France.