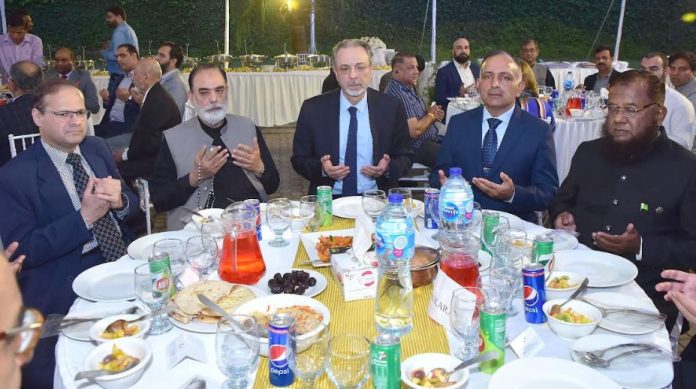 Ambasador of Turkiye says We should mention the assistance of the Pakistan Red Crescent, Turkish Red Crescent Pakistan Office the aid campaigns held at NUST and the DESTEK Donors' Conference organized by NUST again, which was personally supported by President Dr. Arif Alvi
DNA
ISLAMABAD: Ambassador of Turkiye Mehmet Pacaci has said 7.8 magnitude earthquake occurred in southeastern Türkiye on February 6. This was followed by two more earthquakes of similar magnitude in the following days. This disaster was called the earthquake of the century by scientists.
He said, 14 million people in 11 different provinces were affected by this earthquake. Millions of people were left homeless in harsh winter conditions. More than 50 thousand people lost their lives. Over 110,000 people were injured.
He expressed these views during an iftaar dinner hosted by the Embassy in collaboration with TIKA. The Religious Minister, Talha Mahmud, Chairman of the NDMA, Inam Heider Malik, Federal Tax Ombdudsman Asif Jah, and Addl Secretary Muhammad Humaid Kareen also attended the event.
The ambassador further said, what happened in Pakistan when this news of the disaster was heard? 'First of all, I must say that Pakistan, the people of Pakistan, from seven to seventy years old, as we say in Turkish, felt the pain and sorrow of the disaster effected people in Türkiye as if it had happened in their own country, as if it had happened to their own relatives'.
Everyone in all families, in every household, Mothers, Fathers, children, grandchildren, grandmas, grandpas, shared the suffering of the victims in Türkiye.
'I strongly believe that their brothers and sisters in Türkiye felt their sincere good wishes and prayers from here'.
He added, on February 6, during the first working hours of the day,he received a phone call from NDMA Chairman Mr. Inam Heider Malik. Mr. Chairman informed that he called upon the instruction of Prime Minister Shahbaz Sherif and its institution was ready for any kind of help.
Meanwhile, Turkish Disaster Management Authority AFAD had just declared a 4th degree disaster and stated that it was open to receive needed aid from the world. Thus, in the first hours of the disaster, the Pakistan Army Search and Rescue Team already set out for Türkiye. This professional team accomplished great job in Adiyaman and pulled many people alive out of rubble in the disaster effected cities.
'In the first days, the USAR 1122 team, the search and rescue team of the Al-Khidmat Foundation, joined this first team. When Mr. Prime Minister went to the earthquake-effected area in Türkiye to personally express his condolences and support, these teams received him and his delegate there', he added.
Ambassador Pacaci said NDMA delivered much needed 70,000 winter tents, tens of thousands of blankets and medical supplies to the earthquake victims in Türkiye until March 23, using land, air and sea routes with a very effective and professional operation.
International institutions in Pakistan also played important roles. Together with the tents donated by IOM, UNHCR, IFRC, the number of tents dispatched from Pakistan has exceeded 100 thousand. Non-governmental organizations such as Baitussalam, Nisar Amin Fatima Foundation, Muslim Hands, FRGF delivered tons of aid materials to Türkiye, under the coordination of NDMA, the Ministry of Foreign Affairs of the Islamic Republic of Pakistan, the Pakistan Air Force and Pakistan Navy.
Aid campaigns were organized in Pakistan at all levels to help earthquake victims in Türkiye. We should mention the assistance of the Pakistan Red Crescent, Turkish Red Crescent Pakistan Office the aid campaigns held at NUST and the DESTEK Donors' Conference organized by NUST again, which was personally supported by President Dr. Arif Alvi.
He said, Cabinet members donated their salaries to the relief account opened by Prime Minister's Office. Members of the Azad Kashmir Parliament and then Prime Minister Sardar Tanveer Ilyas personally made donations. Civil servants donated their salaries all over Pakistan and Kashmir. In many primary secondary and high schools, students donated their pocket money.
'I would like to express my special thanks for all donators from Pakistan. I thank all the people of Pakistan, all governmental and non-governmental institutions of Pakistan, our brothers and sisters. For us it is impossible to forget their sincere support', the ambassador concluded.