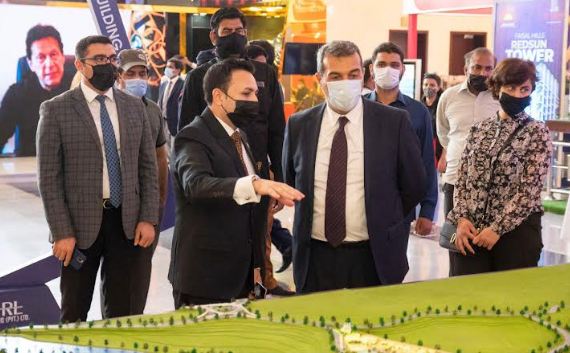 ISLAMABAD, SEPT 4 /DNA/ – Pakistan Property, Housing and Construction Expo 21 organized by the Islamabad Chamber of Commerce & Industry at Pak-China Friendship Centre, Islamabad has attracted a large number of visitors, who are showing great interest in the expo. The Expo was inaugurated by the Prime Minister of Pakistan Imran Khan on Sep: 03, 2021 and will continue till Sep: 05, 2021.Ambassador-designate of Azerbaijan Khazar Farhadov also visited the expo on the second. He visited various stalls and appreciated the work of the organisers. The President ICCI Sardar Yasir took the Azerbaijan ambassador to various stalls and briefed him about the purpose of holding the expo.
On the second day, people were visiting in large numbers and were taking keen interest in the property, housing and construction projects displayed in the expo. Many dignitaries including Federal Minister for Railways Muhammad Azam Khan Swati, former SAPM on Overseas Pakistanis Zulfi Bukhari, Hamza Shafqaat Deputy Commissioner Islamabad and diplomats of Azerbaijan & Jordan visited the expo. They highly appreciated the initiative of ICCI for organizing the expo as it has provided an excellent platform to the exhibitors to showcase the potential of their projects to the visitors and improve their business prospects.
The State Bank of Pakistan and commercial banks have also set up their help desks in the expo to provide information about the government's subsidized financing schemes for people to purchase houses being constructed under Naya Pakistan Housing Program. The expo has many attractions for the visitors including food stalls and distribution of gifts like mobile phones and motorcycles through lucky draws.
Speaking at the occasion, Sardar Yasir Ilyas Khan, President, Islamabad Chamber of Commerce & Industry said that the expo has been organized to support the PM's vision for construction of 5-million houses. He said that over 70 companies of property, housing and construction sectors from across Pakistan are participating in the expo and they have assured of their commitment for the investment of over Rs.250 billion and development of 1 million housing units collectively which will play a pivotal role towards transforming the Prime Minister's vision into a reality. He said that the expo has full endorsement of Naya Pakistan Housing and Development Authority as it would benefit over 60 allied sectors and generate a lot of business activities.He said that there is a great need of approximately 12 million housing units today to meet the needs of the rising population and organizing such expos would help them to find the housing units of their choice. He also expressed thanks to the Hon'ble Prime Minister for granting this sector a much needed amnesty scheme which has given significant boost to this important sector and created a lot of new jobs besides promoting the business of all allied sectors. He said that such amnesty should also be provided to other industries that would pave the way for bringing an industrial revolution in Pakistan.