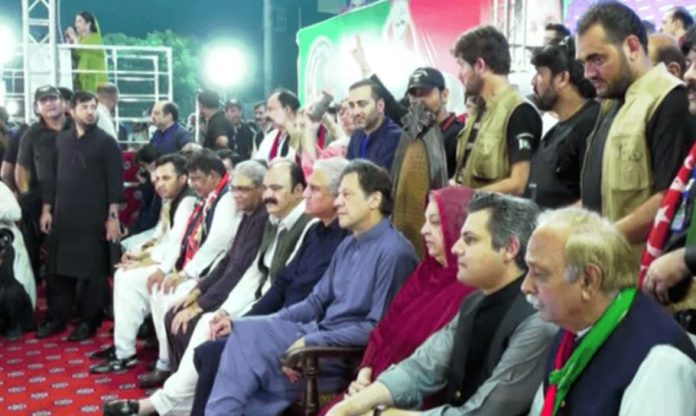 Gujranwala: Former prime minister and PTI Chairman Imran Khan is set to address a power show of his party in Gujranwala shortly. Imran has arrived at the rally venue and is seated on the stage. Prior to his arrival, local PTI leadership took turns to address the gathering of party workers and supporters.
The rally will be the last one of the current phase of the PTI's 'Haqiqi Azadi Movement' and the plan ahead is to be revealed tonight, as indicated by Imran himself in a tweet on Friday.
Ahead of Imran's statement, PTI leader Asad Umar urged the nation to take to the streets on Saturday evening in an expression of solidarity toward the PTI chairman.
In a video message on Friday, Imran alleged that the "imported government and its handlers" were working on a "minus one formula".
Ahead of the Gujranwala rally, the PTI's official account tweeted its content with "#MinusOneNaManzoor", indicating what the primary focus of Imran's speech tonight could be.
Imran is the midst of a series legal wrangles. He was on Thursday indicted in a contempt of court case and now faces a trial. If found guilty, he could be disqualified from holding a public office, which will dash his plan to reclaim the prime minister's seat.