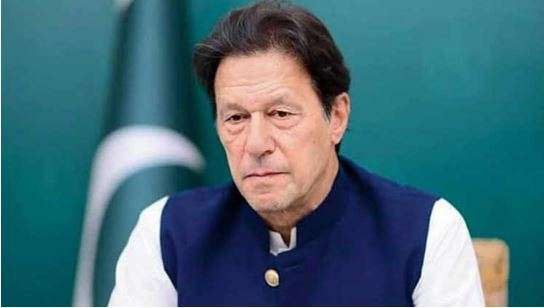 ISLAMABAD, OCT 21: ECP has disqualified PTI chief under Article 63(1)(p); Fawad Chaudhry asks people to come out of their homes "for their rights".
The Election Commission of Pakistan (ECP) on Friday disqualified PTI chief Imran Khan in the Toshakhana reference under Article 63(1)(p) for misdeclaration.
Article 63 (1) (p) of the Constitution states that an individual is, "for the time being, disqualified from being elected or chosen as a member of the Majlis-e-Shoora (parliament) or of a provincial assembly under any law for the time being in force".
While the written verdict is awaited, legal experts are widely interpreting this as Imran being disqualified till the end of the current National Assembly (NA) term.
As such, he has been de-seated as a member of the NA and by-polls could be held on the seat vacated following his disqualification.
However, one of Imran Khan's lawyers, Gohar Khan told that the ECP "has declared Imran Khan was involved in corrupt practices", adding he had been disqualified for five years.
"We are going to challenge it in the Islamabad High Court right now."
PTI leader Asad Umar also tweeted that the decision would be challenged in the courts as a "minus Imran would always remain a distant dream".
Barrister Asad Rahim Khan told that it would be premature to comment without reading the order, given the current ambiguity around what provision Imran Khan was disqualified under.
"It is nonetheless a silly verdict — it would have been rendered meaningless under Article 62(1)(f), as the ECP isn't a court of law," he said.
"Left to the even more limited parameters of Article 63, the ECP's decision can only be justified as part of the absurd sequence of events this country has seen since March, rather than any concrete reasoning of law."
PTI's official Twitter account, meanwhile, posted a photograph of a smiling Imran Khan holding his prayer beads, saying it was taken just moments before.
Key developments
Decision taken unanimously by a five-member bench
PTI leaders ask people to come out of their homes
Fawad Chaudhry says it's a "slap on the face of 220m people"
Imran lawyer Gohar Khan says ruling will be challenged in IHC "right now"
---
A four-member bench, headed by Chief Election Commissioner (CEC) Sikander Sultan Raja, announced the verdict at the ECP Secretariat in Islamabad.
The decision was taken unanimously by the five-member bench. However, the member from Punjab was not present for today's announcement.
According to the verdict, criminal proceedings will be initiated against Imran for misdeclaration.
The reference was filed in August against Imran by the coalition government, for "not sharing details" of Toshakhana gifts and proceeds from their alleged sale. Lawmakers from the Pakistan Democratic Movement — the ruling alliance — had submitted the reference to National Assembly Speaker Raja Pervaiz Ashraf, who had subsequently forwarded it to Chief Election Commissioner (CEC) Sikander Sultan Raja for further action.
Established in 1974, the Tosha­khana is a department under the administrative control of the Cabinet Division and stores precious gifts given to rulers, parliamentarians, bureaucrats, and officials by heads of other governments and states and foreign dignitaries.
According to Toshakhana rules, gifts/presents and other such materials received by persons to whom these rules apply shall be reported to the Cabinet Division.
However, the PTI, while in government, had been reluctant to disclose details of the gifts presented to Imran since he assumed office in 2018, maintaining that doing so would jeopardise international ties, even as the Pakistan Infor­mation Commission (PIC) ordered it to do so.
But later, in a written reply submitted to the ECP on September 8, Imran had admitted to selling at least four presents he had received during his tenure as the prime minister.
The former premier, in his reply, had maintained that the sale of the gifts that he had procured from the state treasury after paying Rs21.56 million fetched about Rs58m. One of the gifts included a graff wristwatch, a pair of cuff links, an expensive pen and a ring while the other three gifts included four Rolex watches.