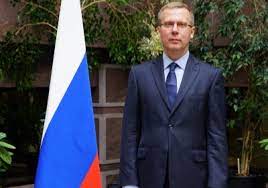 ISLAMABAD: Russian Ambassador to Pakistan Danila V Ganich has said that Prime Minister Imran Khans visit to Russia is an important one and the focus of the talks between Prime Minister Imran Khan and Russian President would be to further strengthen bilateral relations and to give impetus to partnership.
During the meeting between the two leaders, every issue, from trade and economy to international matters would be discussed ,'said the Russian Ambassador said this in a media interview.
Giving details about the visit of Prime Minister Imran Khan to Russia, he said its wrong to say that any leader from Pakistan is visiting Russia after 23 Years, in fact former president General Pervez Musharraf and former president Asif Zardari had already visited Russia. The visit by prime minister ImranKhan is not sudden, it is a planned visit so it has high value, Ambassador Danila added.
He also said that the North Stream Gas Pipeline project in Pakistan is strategically important but as far as Russia is concerned it has done its job and an agreement was signed in 2015,now executing it is the job of Pakistan. He said both the countries have excellent cooperation in defence and military domain and cooperation would continue in the years to come. He said both the militaries conduced joint exercises of their special forces in Russia last year and now these exercises will be conducted in Pakistan this year.
On Afghanistan Ambassador Danila agreed with Pakistan position that the situation in Afghanistan is deteriorating and Russia is persuading Washington to release the frozen assesses of Afghanistan.