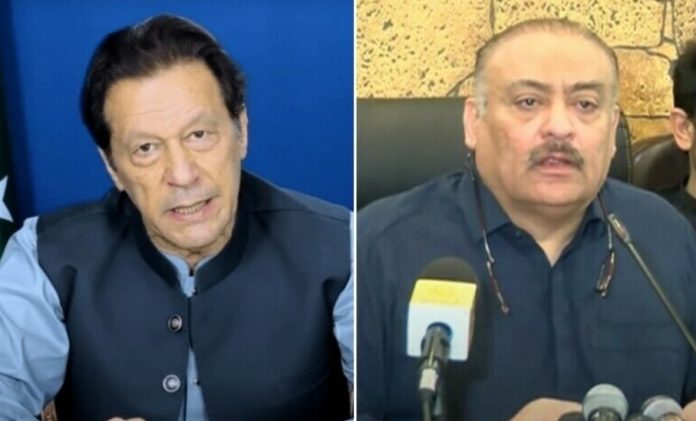 LAHORE, MAY 30: PTI Chairman Imran Khan on Tuesday sent a Rs10 billion defamation notice to Health Minister Abdul Qadir Patel after the latter held a press conference claiming, among other things, that the ex-premier's mental stability was questionable.
Last week, the government had shared the confidential medical reports of Imran's tests, supposedly conducted while he was in custody earlier this month, claiming that no fracture was found on his legs while traces of alcohol and an illegal drug were found in his urine sample.
The details were shared by Patel at a press conference in Karachi. The minister had described the PTI chief's medical report as a "public document" and stated that he didn't need anyone's permission to release it.
However, politicians and analysts had pointed out the glaring contradictions in the report. While the report claimed that Imran's "mental stability is questionable", elsewhere it had declared his higher mental function to be "intact", clinical status "stable" and deemed him "fit" for detention by the National Accountability Bureau (NAB).
The notice served to Patel, a copy of which is available with Dawn.com, was sent under Section 8 of the Defamation Ordinance, 2002 for circulating "wrongful, baseless, false, misleading, erroneous, malicious and defamatory" information in his May 26 press conference.
"The press conference was watched in Pakistan as well as all over the world through electronic media channels, YouTube and various other social media platforms. Moreover, details regarding the press conference were also published in newspapers nationally as well as internationally," the notice said.
The notice said that Imran had sustained a head injury on the day of his "illegal arrest" on May 9 but there was no mention of it in the medical report shared by the minister.
It said that the medical report had emphasised "a lot" on Imran's mental state but no details were provided of an examination being conducted in this regard.
The notice said that Patel made the remarks "knowingly, consciously, willingly, deliberately and maliciously". It added that the minister's remarks were also in "violation of the standards and ethics which [a] member of the federal cabinet must possess."
It said that Patel's defamatory claims had caused damage to Imran's good will, "injury to his reputation", and had adversely affected his "honour".
"Likewise, you (Patel) have also caused emotional trauma, mental agony and anguish and distress to our client (Imran)," the notice added.
The notice called on Patel to retract his statements "in the same mode and manner in which you made them in the first place" and tender an unconditional apology and admit "you have misstated".
It also called on the minister to pay Rs10bn, which would be donated to Shaukat Khanum Memorial Cancer Hospital and Research Centre, for defaming Imran and levelling false allegations against him. It called on Patel to refrain from making further defamatory comments.
The notice said that Imran would be compelled to initiate legal proceedings if the minister failed to take the aforementioned steps within 15 days.
Patel's claims regarding Imran's health
During last week's press conference, the health minister had rejected questions surrounding the moral and ethical grounds for releasing someone's health records. He had also announced he would share more information about Imran as a detailed report was still awaited.
Patel said it all began on May 9 after Imran's urine sample was obtained at a NAB office shortly after the former prime minister was arrested in a corruption case.
He claimed Imran was completely examined by a medical boa­rd comprising five senior officials of the Polyclinic and Pakistan Insti­tute of Medical Sciences (Pims).
Reading from the medical fitness report, the only one shared with the media, the health minister said Imran appeared under stress and displayed symptoms of anxiety during the examination.
The report claimed that Imran was also angry about recent events and had little insight into the seriousness of the current situation. It also questioned his mental stability.
Ironically, however, the report's findings showed nothing to support these remarks. In fact, it showed almost all tangible indicators were normal.
Patel then referred to Imran's "initial" urine test report, which he claimed suggested extensive drug and alcohol use, but the minister was unsure about the ratio of their consumption. Still, he insisted on its findings. He said a detailed report would be shared with the media once finalised.
On legal action against Imran based on these findings, the minister said the government would go to the police once the ratios of such substances were finalised and reported.
The police, Patel said, would then guide the government under which sections of the Pakistan Penal Code the PTI chief could be booked.
About the findings of a fracture to Imran's leg, the minister said the team of doctors had found no injury that required a plaster for months. In November, the PTI chief sustained bullet injuries in his leg during an assassination attempt in Wazirabad.