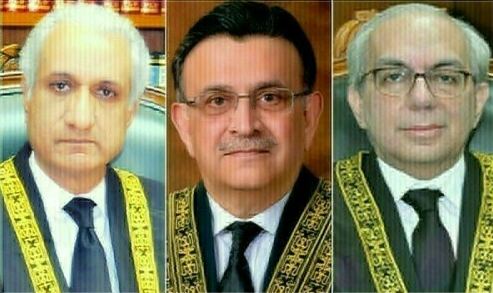 ISLAMABAD, MAY 30: The federal government on Tuesday raised an objection to three members of the five-member bench hearing a set of petition challenging the constitution of a judicial commission formed to investigate the veracity of recent audio leaks.
The government had formed the commission on May 20 under Section 3 of the Pakistan Commission of Inquiry Act 2017. Led by senior puisne judge Justice Qazi Faez Isa, the commission also comprised Balochistan High Court Chief Justice Naeem Akhtar Afghan and Islamabad High Court Chief Justice Aamer Farooq.
But earlier this week, the top court, while hearing a set of four petitions against the appointment of the commission, restrained the panel from going ahead with its task.
The reserved verdict was issued by a five-member bench comprising Chief Justice of Pakistan (CJP) Umar Ata Bandial, Justice Ijazul Ahsan, Justice Munib Akhtar, Justice Syed Hasan Azhar Rizvi and Justice Shahid Waheed.
"I am sorry to say that efforts have been made regrettably, may be unknowingly, to draw a wedge between the judges of the court," CJP Bandial said during the hearing.
Subsequently, the government-app­ointed commission decided to put its proceedings on hold until the SC decided the petitions challenging its formation.
In the petition filed today, a copy of which is available with Dawn.com, the government sought the recusal of CJP Bandial, Justice Ijazul Ahsan, and Justice Muneeb Akhtar from the bench hearing pleas against the audio leaks commission.
The plea also urged the CJP to reconstitute the bench, urging the judges to "graciously consider recusing themselves from the instant petitions".
The petition said that one of the rules of natural justice was that the adjudicator should be impartial.
It said that the CJP's inclusion in the bench hearing pleas against the commission, formed to investigate audio leaks "pertaining to a very close family member", raised grave concerns regarding the appearance of impartiality.
"It is important to reiterate that the questions raised above pertain only to the appearance of impartiality and conflict of interest and therefore are distinct and separate to bias which has neither been raised nor is the contention of the respondent," the petition said.
The plea further said that some of the audio leaks also concerned two other members of the bench, Justice Ahsan and Justice Akhtar.
"Consequently, propriety and good sense dictate and demand that Hon'ble Justice Ahsan and Hon'ble Justice Akhtar may also graciously recuse themselves from hearing the captioned petition," the plea said.
"Impartiality requires judges to approach cases with an open mind, devoid of personal interest, external influences, and even a perceived conflict of interest," it added.
"As the highest authority in interpreting the Constitution and making decisions that can shape the nation's future, this court bears immense responsibility," the petition said, adding that judges must be diligent in identifying any "conflicts of interest" that could compromise their ability to render fair and impartial judgements.