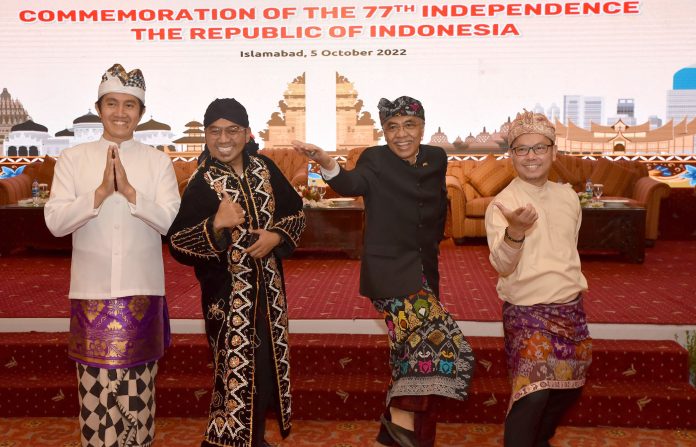 Ambassador Adam Tugio says Indonesian government dispatched humanitarian aid and a medical team along with USD1 million grant for flood victims
Special Correspondent
ISLAMABAD: Ambassador of Indonesia Adam Tugio has said the 77th Anniversary of Independence is another milestone for Indonesia marked with significant political and economic achievements. Now, Indonesia is world's third largest democracy anda country where Islam and modernity coexist and deliver to bring economic progress.
The ambassador made these remakes while speaking on the occasion of Independence day reception. Federal Minister for Industries and Production Syed Murtaza Mahmud, Mushahid Hussain Syed and others attended the event.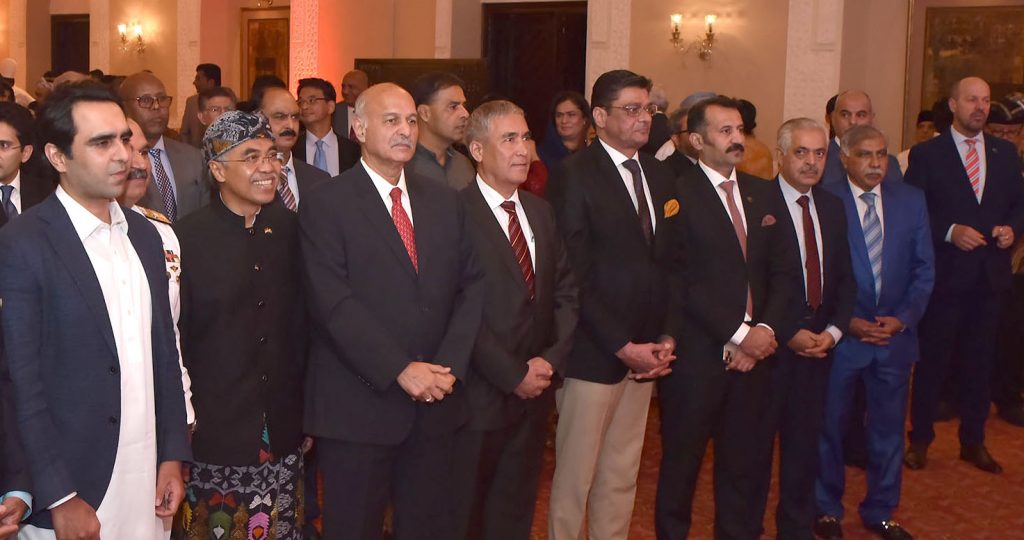 He said, representing the voice of developing countries and to ensure their participation in development process are important parameters of Indonesia's inclusive approach to the Indonesia's Presidency in G-20;
Ambassador Tugio said the theme of "Recover Together, Recover Stronger 'under Indonesia's G20 Presidency this year – with three main pillars of Global Health Architecture, Sustainable Energy Transition and Digital Transformation – reflects the true spirit of inclusiveness in the wake of recovery challenges posed by Covid-19 so that "we leave no one behind".
'I take this opportunity to convey on behalf of the government and people of Indonesia, our heartfelt condolences and sympathies to the victims of recent unprecedented flash floods in Pakistan. Based on our experiences, we believe that no nation alone can handle such a large scale natural disaster and it's a shared responsibility of all to support people in distress. Indonesia stands with Pakistani brothers and sisters in this difficult time', he added.
He said as a mark of solidarity, Indonesian government dispatched humanitarian aid in-kind by two special aircrafts last month and a medical team along with USD1 million grant to support ongoing relief operation in Pakistan.
'Let me use this opportunity also to pay my deep gratitude for kind message of condolences and words of compassion from brothers and sisters of Pakistan, and diplomatic community for the victims of deadly soccer stadium stampede in Malang, Indonesia. I sincerely thank you for being so thoughtful and for sharing our grief with prayers and warm support'.
As regards Indonesia-Pakistan relations, prosperity, stability and development have always been a priority of our founders and top leadership. Since the establishment of diplomatic relations in 1947, Indonesia-Pakistan bilateral relations have continued to become stronger and more comprehensive; Pakistan strategically holds great importance for Indonesia as a trusted friend and partner in South Asia.
With the rapidly expanding national economy, and the growing importance of ASEAN as a trade hub, Indonesia offers wonderful investment opportunities and collaboration to our friends from business community in Pakistan. Happily, both sides are fully aware of existing potential and benefits of cooperation and moving ahead by initiating various mechanisms, bilateral consultation forums, policy dialogue, trade promotion and strengthening of people-to-people contacts to reap more fruits from productive engagement.
While concluding his speech the Ambassador said, he would like to extend his sincere gratitude to the Government of Pakistan, business community, friends and partners for always extending their valuable support and assistance to the Embassy with active participation in our events for further promoting bilateral friendly ties, better understanding and connectivity.