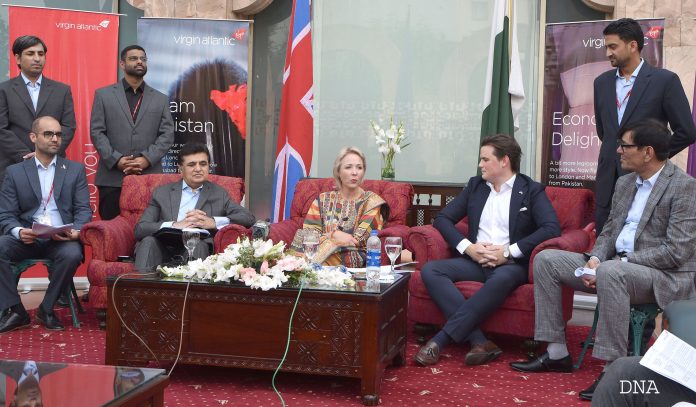 Lead 6 col
Liezl Gericke , the Head of the Middle East, Africa and India says 'We are currently flying with strong load factors on Pakistan routes. In September we flew with a 98% load factor Ex-Pakistan collectively across all routes and the outlook for the rest of the year is promising'
ISLAMABAD: Liezl Gericke , the Head of the Middle East, Africa and India of Virgin Atlantic addressing a press conference.=DNA
Business Desk
ISLAMABAD: Liezl Gericke , the Head of the Middle East, Africa and India Virgin Atlantic has said she was quite satisfied with the Pakistan operations adding the airline was doing its best to properly facilitate all its customers.
She made these remarks while addressing a press conference at the Islamabad Serena Hotel, on Thursday.
Flanked by staff of the Pakistan office, Ms Liezl said, 2022 is the start of a new phase for Virgin Atlantic, as we recover from the Covid pandemic and delivering our best for our customers and our people. Our vision is clear: to become the most loved travel company and sustainably profitable
'We're investing in our network our operations in Pakistan are integral to this journey. We are back strong, offering new routes, with more flights and brand new next generation aircraft, with the youngest fleet on the transatlantic, now just under 7 years on average.
She thanked all the trade partners for supporting Virgin Atlantic from the day it launched flights in Pakistan. This journey would have not been possible without their support, she said.
To a question about floods in Pakistan and global warming, she said the climate crisis is the single greatest challenge of our lifetime. The climate crisis will not be solved by one industry, like aviation, or by one player within that industry, like airlines. It requires coordinated and consistent progress to be made against ambitious climate goals by individuals, industries and governments.
'Fleet transformation, aircraft technology, and SAF supply are crucial to the aviation industry decarbonising, but of equal importance is the need for the global industry to continue working together as a coalition of the willing. Realising the devastating impact of carbon emission on the environment, Virgin Atlantic has been striving to do better for our planet and we're taking action. We're investing in research, new technologies and innovation to reduce our impact in the air and on the ground', she added.
Sharing Virgin Atlantic actions towards this end Ms Liezl said the time for action against climate change is now. We've announced a set of ambitious interim milestones to take Virgin Atlantic to net zero by 2050. We were the first airline to fly a commercial aircraft using sustainable aviation fuel back in 2008 and by 2019 we had already achieved 18% reduction in CO2 emission through this initiative
She said, Pakistan is an extremely exciting opportunity for us as the UK is home to the largest Pakistani Diaspora community outside of Pakistan with over 1.5 million people. The UK-Pakistan market has always displayed strong underlying growth annually, with a strong combination of business and leisure passengers, which gives us confidence about the long-term potential.
While commenting on the suspension of operations between Manchester and Islamabad she said, as international travel rebounds, we're continually reviewing our network, taking into account aircraft availability and the services which support the greatest customer demand. We've taken the decision not to operate Manchester – Islamabad services this winter but will evaluate opportunities to resume this route in future seasons, and in the meantime, the service continues twice-weekly until the end of October from our home in the North
'We look forward to meeting continued demand for leisure and business travel with direct scheduled services to Pakistan, with our Heathrow-Islamabad and Heathrow-Lahore services now on sale for the Winter 2022 season'.
While talking about the business prospects in Pakistan she said Pakistan has been one of the quickest markets to recover following Covid. VFR traffic was resilient throughout Covid, and as travel restrictions were unlocked earlier this year, we saw a surge of pent-up demand from all segments.
'We are currently flying with strong load factors on Pakistan routes. In September we flew with a 98% load factor Ex-Pakistan collectively across all routes and the outlook for the rest of the year is promising'.
She added, a significant number of passengers connect onto our extensive US network from Pakistan via London Heathrow. Islamabad/Lahore to New-York is our largest connecting traffic flow currently.
Virgin Atlantic carried over 120k passengers between UK and Pakistan in 2021 and were the number one carrier for the year and in 2022 again, we are leading the market for point-to-point travel to the UK. Recently held SkytraxAwards, Virgin Atlantic also took home the award for best business class lounge as well as world's best premium economy offering.