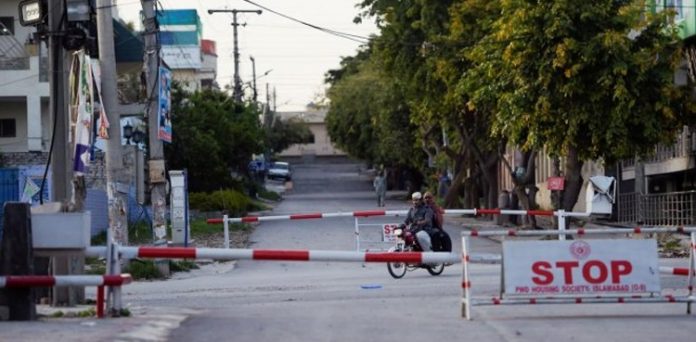 ISLAMABAD: Smart lockdown strategy yielding positive results in Islamabad bringing the tally of novel coronavirus cases down by 90 percent in the capital city.
Islamabad administration in a notification today announced end of smart lockdown in three areas of the federal capital.
The authorities have de-sealed Sector G-VI-I, G-VI-II and G-VII-II today after positive impact of the lockdown.
"These areas are being de-sealed after decline in number of cases," Deputy Commissioner of the capital Hamza Shafqaat said.
Strict implementation of SOPs by the administration have yielded positive results in tackling COVID-19 cases in the federal capital.
It is pertinent to mention here that the Islamabad administration in end days of June de-sealed two sub-sectors of Sector G-9 and Karachi Company commercial area, which had been sealed after a sharp increase in coronavirus cases.
As per a notification issued by the Islamabad administration late on Saturday, the sub-sectors including G-9/2 and G-9/3 and Karachi Company will be unsealed on June 28.
Smart lockdown is being lifted from the localities after a detailed survey, ground surveillance, and testing of suspected patients, a notification read.
However, the de-sealed areas will remain under strict supervision and section 144 would remain enforced there, it added.