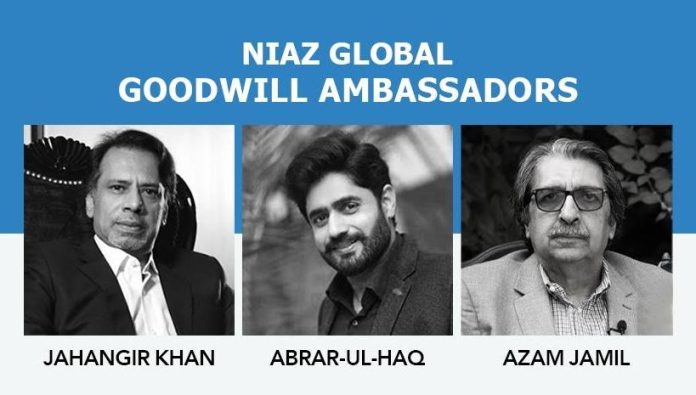 DNA
ISLAMABAD: Niaz announced that Squash Legend Mr. Jahangir Khan, renowned Singer-Songwriter, Philanthropist & Politician Mr. Abrar-ul-Haq and Country Head Siddiqi Hospitality, Former Minister of State, Special Assistant to the Prime Minister & Chairman PTDC Mr. Azam Jamil would be the Global Goodwill Ambassadors for Niaz.
NIAZ, meaning gift, is a self-sustainable social enterprise to enable the world to gift with a purpose. It is an initiative to transform lives of persons with disabilities by providing them customised wheelchairs to fulfill their daily functional goals and improve the quality of life. Tailoring a wheelchair to individual needs and body measurement provides them independence in the area of self-care, mobility and posture management.
Founder Niaz Mr. Hussain Odhwani said, "No occasion gift can be more precious than gifting a lifeline to a person with disability. We've begun this journey with customised wheelchairs, working with certified engineers who apply design and customisation based on the individual needs and body measurement.
We will endeavour to continue our research and development of other products serving disability needs." He added, "I am truly honored and thankful to our Honorable Goodwill Ambassadors to join us and be part of this noble journey to transform lives of persons with disabilities." Speaking on the occasion Mr. Jahangir Khan said, "Not much attention is paid towards the disabled community in our country. They are provided with an ordinary patient wheelchair that is not according to their body. Hence, it further deshapes and damages the body in longer run."
Mr. Abrar-ul-Haq said, "Niaz has not only highlighted the issue faced by persons with disabilities but also provided its solution. PWDs spend 16-18 hours on a wheelchair that is not according to their measurement. I strongly believe that this is a very noble cause and people should come forward to support it." Mr. Azam Jamil highlighted that the number of disabled persons in Pakistan is staggering. These are in millions and multiple of millions.
Most of them are confined to a wheelchair for the rest of their lives. He further said "PWDs who are provided with unprofessionally designed wheelchairs develop disability over time, and that is the absence of hope. They lose hope in the system; they lose hope in their lives. I am privileged and honored to be part of this initiative and we are trying to spread the word so that all of us together can help and make lives better of those in need.