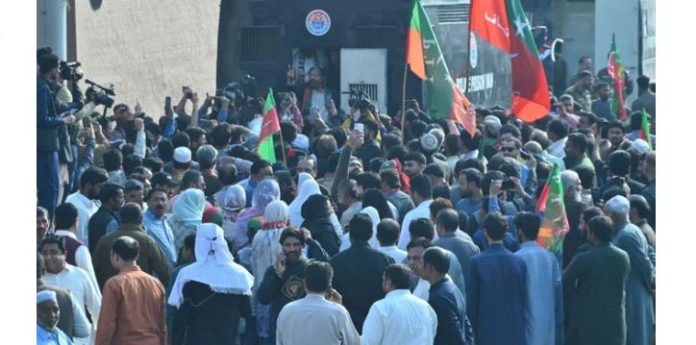 Gujranwala: Contrary to high expectations of the Pakistan Tehreek-e-Insaf's (PTI) leadership, just 70 workers and supporters of the party courted arrest in Gujranwala on Sunday.
The movement, according to the PTI rationale, aims to counter the "attack on constitutionally-guaranteed fundamental rights" and the "economic meltdown by the incumbent government".The PTI 'Jail Bharo Tehreek' (court arrest movement) appeared to be losing its steam as none of the party's leaders or workers voluntarily surrendered themselves to the police as the Peshawar phase of the 'Jail Bharo Tehreek' (concluded — the city considered as stronghold of the party — on February 23.
PTI leader Yasmin Rashid, however, claimed that six prison vans boarded with PTI workers have departed for jail so far.
She said that the police were facing a shortage of prison vans to shift the PTI workers to the jail. She added that the local police barred female workers of the party from boarding the prison van.
The PTI leader paid rich tribute to the people for taking to the street on the call of former prime minister Imran Khan who announced the 'Jail Bharo' campaign on February 4 and it was kicked off on February 22 from Lahore.
Besides others, Chaudhry Ilyas Gujjar, his nephew and Qamar Abbas Tarrar have courted arrest, said Rashid.
Sharing a photo of former MPA Zafarullah Cheema and Nazar Muhammad Gondal in handcuffs on Twitter, the PTI leaders said that they were the first who voluntarily surrendered to the police in the city.