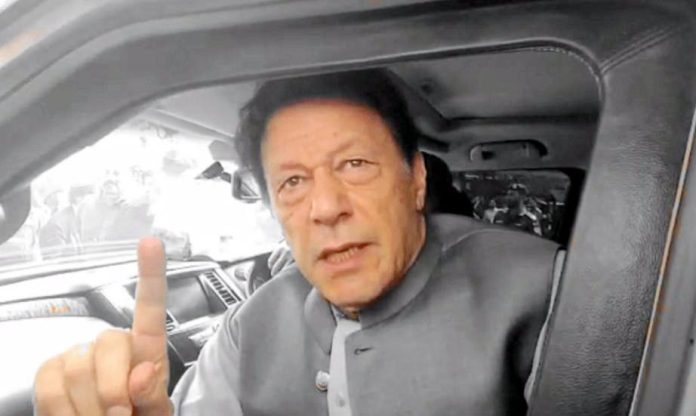 ISLAMABAD, Mar 25 (DNA): Pakistan Tehreek-e-Insaf's (PTI) chairman Imran
Khan has said that Lahore had been made Occupied Kashmir and Palestine
by parking containers.
Talking to the media outside the anti-terrorism court on Saturday, the
former premier said that about 1,600 workers of the PTI had been
arrested.
"The objective of the arrests is to fail today's public meeting, but the
people will reach there after breaking all barricades," he maintained.
The police launched on Saturday a crackdown against Pakistan
Tehreek-e-Insaf (PTI) workers ahead of the party's public gathering at
Minar-e-Pakistan tonight, while some roads leading to the location have
been blocked.
The political show comes despite postponement of elections in Punjab as
Election Commission of Pakistan (ECP) has excused from holding polls due
to financial and security constraints.
All roads leading to Minar-i-Pakistan have been barricaded by parking
trucks carrying shipping containers while Ravi bridge and Thokar Niaz
Baig – the two major entry and exit points – have also been closed for
traffic. The measures to prevent the political gathering caused hurdles
for commuters who headed for their jobs and workplaces earlier in the
day.
The areas where containers have been placed include Shah Alam Market,
Bansawala Bazaar and the railway station.
In a tweet, the City Traffic Police said the following roads are closed
for traffic "from Lohay Wali Pulli towards Sabzi Mandi ,outgate Lorri
Adda towards Sabzi Mandi, R/O Lorri Adda towards Sabzi Mandi, both sides
of old Ravi bridge, both sides of new Ravi bridge, Barkat Pulli towards
Shahdara, Masti gate towards Railway Station, Railway Station towards
Masti Gate, lk Moria bridge towards Railway Station, Railway Station
towards Ik Moria from beneath and flyover, Bohar Wala Chowk, Railway
Road, Brendth Road and Hafiz hotel, District Chowk towards Workshop
Chowk both sides, Peer Makki U-turn both sides, Retigun chowk towards
SSP corner. The police have asked people to take alternate routes.
Despite restrictions on roads, PTI Chairman and former prime minister
Imran Khan is optimistic about his successful power show. Taking to
Twitter, he said tonight the PTI will hold its sixth gathering at
Minar-i-Pakistan and "my heart tells me it will break all records".
"I am inviting everyone in Lahore to attend (the event) after Tarawih
prayers. I will give my vision of Haqeeqi Azadi and how we will pull
Pakistan out of the mess the cabal of crooks have put our country in,"
he wrote.
"They will put all sorts of hurdles to prevent people from attending,
but I want to remind our people that it is their fundamental right to
attend a political gathering. Everyone must assert their right as people
of a free nation that won its independence & come to Minar i Pakistan."
DNA