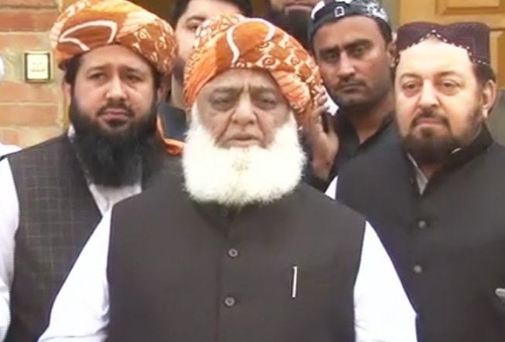 ISLAMABAD, MAY 14 (DNA) — Pakistan Democratic Movement (PDM) chief Maulana Fazlur Rehman refused the proposal of his government to change the venue of the sit-in from the Supreme Court of Pakistan to D-Chowk in Islamabad.
As per details, Federal Finance Minister Ishaq Dar and Interior Minister Rana Sanaullah met Pakistan Democratic Movement (PDM) chief Maulana Fazlur Rehman on Sunday, to request that the PDM not hold a protest outside the Supreme Court.
The meeting took place amidst the current political unrest in Pakistan and the PDM's planned protest outside the Supreme Court. Ishaq Dar and Rana Sanaullah urged Maulana Fazlur Rehman to reconsider the protest location and hold protest at D-chowk.
The decision to hold the sit-in was made during a meeting attended by the heads of PDM parties, including former prime minister Nawaz Sharif who participated via video link from London. However, in a surprising turn of events, Interior Minister Rana Sanaullah and Finance Minister Ishaq Dar met with Maulana Fazlur Rehman and urged him to reconsider staging the sit-in outside the top court.
The government's request was made in an effort to prevent further tension and unrest in the country. Finance Minister Ishaq Dar stated that the government had suggested that the PDM hold their protest at D-Chowk instead.
He emphasized that the country had already experienced a recent law and order crisis, referring to the violent protests that erupted following the arrest of Imran Khan on May 9 by the Rangers, acting on a warrant issued by the National Accountability Bureau (NAB) in relation to the Al-Qadir Trust case.
However, Maulana Fazlur Rehman rejected the request, saying that the PDM had already announced the protest and that the decision now lies with the people's court. He also mentioned that convoys from all over the country have already departed for Islamabad to participate in the protest.
The protest outside the Supreme Court of Pakistan is planned for May 15, when a hearing on the Punjab election case is set to take place. While many workers have left their homes with the determination to stage a sit-in outside the SC so now this matter has come to the people's court and he cannot take it back.
Federal Minister Ishaq Dar said that the situation in the country worsened a few days ago, so the federal government wants PDM to protest at D-Chowk. On the appeal of the federal ministers, Maulana Fazlur Rehman assured them that their workers are peaceful and there will be a peaceful protest outside the SC as not a single pot or plant will be damaged. — DNA