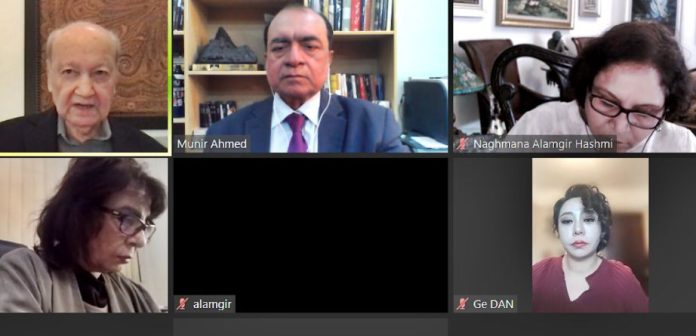 ISLAMABAD, JAN 21 /DNA/ – Defence and geopolitical experts from Pakistan and China warn of severe economic repercussions of increasing US-Taiwan military collaboration. Overwhelming approval of the Taiwan Policy Act 2022 by the US Senate seems a green signal to setting up a near future war field in the Asia-Pacific. Though, it is believed that it would have the most profound impact in the bilateral diplomacy and arms sales, covering broad security and military assistance to support Taiwan against potential threats from Beijing.
Though the experts did not rule out the chances of war between China and Taiwan, they say "china will not initiate the war while the US would try to impose on it to stop its economic spread". The US-Taiwan new strategic partnership is also worrisome for the people of both China and Taiwan as they all believe in peace and security.
The webinar was organized by the Devcom-Pakistan (Development Communications Network) and DTN on Saturday.
Lt. General (Retd) Talat Masood was the keynote speaker. Other guest speakers included Ambassador (Retd) Naghmana Naheed Hashmi and geopolitical analyst from Chengdu (China) Dr. Dan Ge, co-chair of the News One media group Seema Taher, and Devcom-Pakistan Executive Director Munir Ahmed.
Devcom-Pakistan Executive Director Munir Ahmed in his introductory remarks said the Taiwan Policy Act 2022 creates a new initiative to bolster Taiwan's defense capabilities, providing almost $4.5 billion in security assistance over the next four years and designating Taiwan as a "Major Non-NATO Ally"; reforms bureaucratic practices and procedures to bolster support for Taiwan's democratic government; provides additional support for Taiwan's participation in international organizations and in multilateral trade agreements; takes concrete steps to counter China's aggressive influence campaigns. The accumulation of military assets in Taiwan may ignite a Ukraine-like situation in the Taiwan Strait.
Lt. General (Retd) Talat Masood Taiwan's heavy militarization is unwarranted and will cause a severe dent to the peace and stability not only of the region, but global too. A weaker China will cause recession in the developed world too. No other theory will succeed but the reunification of China. Historically Taiwan has been part of China, but never reverted back to after the end of the WW-II as it was agreed among the warring countries.
He said China's economic, strategic and military growth is unprecedented in a short span of time. Its economic position will be stronger in the coming years. China is likely to take over the entire US economy, and this is what scares the US. China's containment is not possible at this time, even engaging it in a war. The military strength is much better though not more than the US, but the Chinese people and their army is more resilient.
Ambassador (Retired) Naghmana Naheed Hashmi said "One of the two centennial goals of China is the return of the lost territories and reunification of China and rejuvenation of the Chinese nation by 2049. For China, Taiwan is important for its Sovereignty and territorial integrity as it is historically an integral part of China. It was clear that China would not allow external interfering forces and internal separatist forces to jointly conspire to undermine its sovereignty, security and territorial integrity. She said China has clearly manifested their intention to defend China's core interests, and to take all counter measures necessary, and will exercise all rights that a sovereign country has to protect its sovereignty and territorial integrity. China announced a number of countermeasures which aim to promote the process of national reunification.
Talking about the dynamic stability of US-China-Taiwan, the Chinese political analyst Dr. Dan Ge said the US has continuous provocations in the South-China Sea especially at Taiwan Strait despite having formal diplomatic ties with China, and also officially recognize One-China policy. Meanwhile, no endorsement of one-China policy and thereby maintains a "robust unofficial" relationship with Taiwan, including continued arms sales. On the other hand, China always showed the utmost tolerance and restraint towards the US provocations. One-China policy has always been a cornerstone for Sino-US relations as the China Ministry of Foreign Affairs has stated time again. Taiwan's ruling party has been promoting independence through multiple ways, including the modification of textbooks and diplomatic wordings.
She said no war yet, not peaceful Taiwan Strait as the US-Taiwan military cooperation in the last over a decade has turned more to prevent China's accomplishment of reunification while Taiwan is the core of the US Indo-Pacific strategy. The US strategy of containing China's rise will remain unsuccessful or dent the US and the NATO nations' economies too as their economies are based on Chinese imports.
Seema Taher said China's economic spread cannot be curtailed by hook or by crook. China is not only an economic might but its military strength is also unchallengeable. Pakistan and its people are on the China side in any case though Pakistan is going through the challenge of balancing diplomatic ties with all strategic partners.=DNA
============