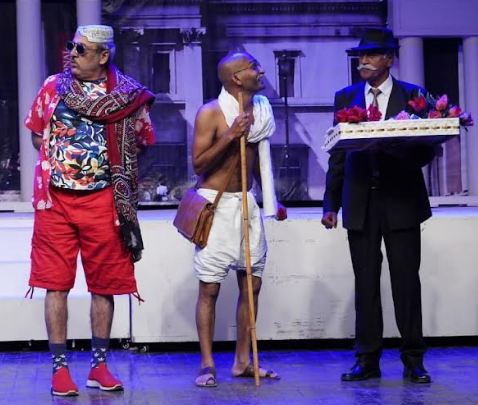 ISLAMABAD, JAN 21 /DNA/ – The play, which was well-liked in Karachi and successfully ran 100 performances, is now in its final week of performances in Islamabad. Saadhay 14 August, like Karachi, was able to draw large crowds to each performance, and the audiences were astounded by the incredible presentation, drama, choreography, and, of course, the powerful storyline. Dr. Arif Alvi, the president of Pakistan, attended the performance at the Pakistan National Council of Arts in Islamabad with the first lady. His honourable attendance and fervent admiration for Saadhay 14 August demonstrated that the masterpiece was not only adored by the general public but also by those responsible for setting national policy. Saadhay 14 August is the third and last part in the trilogy that started with Sawa 14 and Pawnay 14 August. Exceptionally well-written by the legendary Anwar Maqsood and masterfully put together by Dawar Mehmood.
Saadhay 14 August is a thorough thought-provoker and entertainer. The political, economic, and social upheavals in Jinnah's and Gandhi's respective countries were explicitly presented to them by the inclusion of well-known historical and contemporary personalities. Even when serious situations are shown, people are seen laughing because of Maqsood's writing magic and every actor's immaculate performance. The audience and the main characters of the play are shown everything there is to know about Pakistani and Indian politics from Kashmir to Lahore to Delhi to London.
From the bustling streets of Lahore to the burgeoning political activism among its citizens—from a state-sponsored film set in Delhi to London—you see the most outstanding, humorous performances along with Sajid Hassan's convincing portrayal of a Sindhi politician in London who, like the many politicians and powerful individuals in Pakistan, managed to flee despite having his name on the Exit Control List. Saadhay 14 August provides satire and amusement in one package.
The spectacular Saadhay 14 August team is now travelling to Lahore where they will perform Saadhay 14 August for the city's zealous populace after the incredible house packed performances in Islamabad.=DNA
=========