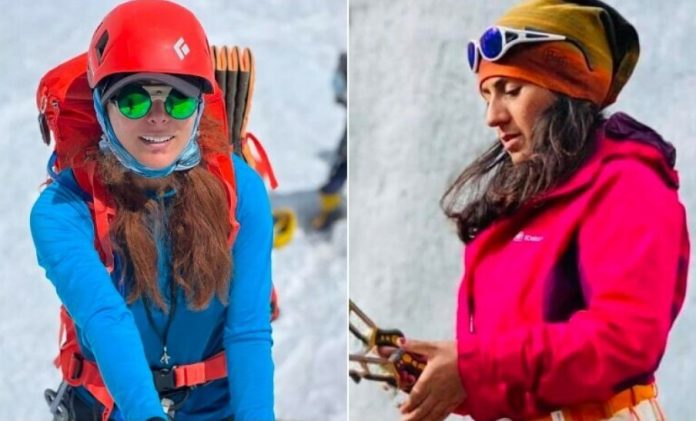 Mountaineers Naila Kiani and Samina Baig became the first Pakistani women to summit the 8,125-metre-tall mountain Nanga Parbat — the world's ninth-highest peak — on Sunday.
According to Alpine Club of Pakistan Secretary General Karar Haidri, Naila scaled the mountain at 10:18am today followed by Baig who completed her summit at 11:08am.
The women overcame hazardous terrain, severe weather, and a plethora of challenges during the journey.
Haidri said Kiani and Baig were accompanied by other Pakistan mountaineers Rizwan Dad, Eid Muhammad, Ahmed Baig, Waqar Ali, Saeed Karim, Liaqat, Wajid Nagri, and Shah Daulat. All of them also successfully scaled the peak.
Meanwhile, Imagine Nepal — an expedition team — also said that 10 of its members climbed Nanga Parbat today.
Summit Karakoram Managing Director Sakhawat Hussain told Dawn.com that his clients Chris Warner from the United States and three Nepalese Sherpas scaled the peak as well.
Separately, nearly 28 other mountaineers from around the world also successfully climbed the mountain today — making it the largest single-day Nanga Parbat summit.
Naila Kiani
Kiani is a Dubai-based Pakistani banker, an amateur boxer, and a mother of two daughters. She had first gained prominence after images of her wedding shoot at K2 Basecamp circulated on social media in 2018.
She summited Gasherbrum-II (8,035m) in 2021 and ascended Gasherbrum-I (8,068m), K2, and Annapurna peaks. Kiani had also climbed the world's second-tallest peak K2.
Earlier this year, she became the second Pakistani woman to summit the mighty Everest.
Taking to Facebook earlier today, Alpine Club's Haidri said: "Numerous mountaineers and adventure fans all over the world are inspired by Naila Kiani's unwavering resolve, unmatched abilities, and unwavering attitude.
"She serves as a bright example of how people can overcome seemingly insurmountable obstacles."
Samina Baig
Baig was the first Pakistani woman to scale Mount Everest in 2014.
Last year, she again created history by summitting K2 along with her team, just three hours before Kiani reached the peak.
Baig, who comes from the remote village of Shimshal, also holds the unique record of being the first Pakistani among men and women to climb seven summits in seven continents.
In 2010, she became the first to ascend the virgin peak Chashkin Sar (above 6,000 meters) now called the 'Samina Peak'. She conquered another virgin peak in 2011 that was named 'Koh-i-Brobar' or the 'Mount Equality' in 2011.