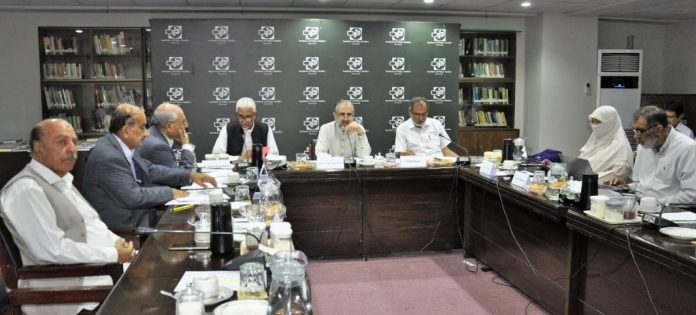 DNA
Islamabad, Sep 20: Pakistan is faced with a crisis of governance at all levels, lack of national consensus on critical issues, and non-adherence to national objectives in policy formulation and implementation, according to senior academics and seasoned practitioners.
The experts were speaking at the annual meeting of the National Academic Council (NAC) of Institute of Policy Studies (IPS), Islamabad. The yearly gathering is aimed at delivering intellectual input from a cross-section of veteran scholars and practitioners to IPS' research activities.
Presided over by IPS' Chairman Khalid Rahman, the meeting was addressed by Dr. Syed Junaid Zaidi, former rector COMSATS; Ambassador (r) Shamshad A. Khan, former secretary, Ministry of Foreign Affairs; Syed Abu Ahmad Akif, former federal cabinet secretary; Dr. Syed Tahir Hijazi, former vice-chancellor, Muslim Youth University; Dr. Waqar Masood Khan, former federal secretary, finance; Dr. Anwar-ul-Hasan Gilani, former vice chancellor, University of Haripur; Mirza Hamid Hasan, former federal secretary, water and power; Ambassador (r) Syed Abrar Hussain, vice chairman IPS; Dr. Abdul Rauf Rafiqui, director, Abdul Samad Khan Achakzai Shaheed Chair, University of Balochistan; Dr. Adnan Sarwar Khan, former dean of social sciences, University of Peshawar; Dr. Naveed Butt, senior physician at Federal Government Services Hospital; and Dr. Noreen Sahar, associate professor and chairperson, Department of Anthropology, IIUI.
The speakers highlighted matters of national significance that have negatively influenced the development potential of Pakistan and the ins and outs of which need to be unpacked at the intellectual and policy level.
The fundamental of these issues, as endorsed by almost all the speakers, was the severe deficiency of good governance. The government not only lacks the capability to channel opportunities and manage menaces like floods or politico-economic crises, but also lacks the essence of democracy in its institutional decisions and policy thoughts. Hence, the slow national progress.
As pointed out by Shamshad Khan, foreign dependency and wrong decisions are also a cause of bad governance, endangering the sovereignty of the nation in the long run. In addition to these, there is another important factor that is devouring the development perspective of Pakistan, i.e. the corrupt people present at the top-tier level of governance.
Khalid Rahman observed that there is a lot of confusion in the society and nation regarding policy. He pointed out that national efforts towards development and policy discourse are not in the same direction because of many factors. One such factor is resourceful lobbying that challenges the whole framework of policy and policymaking. In addition to this, foreign sponsorships also play a considerable role in buying national talent to fulfill ulterior agendas, which should be confronted by Pakistan through win-win collaborations.
Non-adherence to national objectives in policy formulation and implementation has resulted in the overlapping of the crisis in Pakistan, which is, at the same time, marred by corruption and nepotism, as indicated by Syed Akif.
Noreen Sahar added social networking and nepotism to the main causes that have resulted in blocking national progress. She emphasized the presence of people selected on the basis of skill and merit in top-tier governance positions.
The participants indicated the need to work on emerging challenges and developments like climate change, social issues, educational reforms, and technological innovations.
Although the issue of climate change has manifested itself in recent times in the form of disasters like floods, there is still a lack of national consensus and awareness about it, noted the speakers.
Along with that the country also needs educational reforms and a balanced approach that integrates all lines of education, stated Rauf Rafiqui.
Hamid Hassan added that the national politico-economic crisis and international factors also contribute to challenges. However, this also presents opportunities, which need to be capitalized on with timely and right decisions.
While appreciating IPS' efforts to promote research on governance, Tahir Hijazi suggested for the institute to interact with the Planning Commission, relevant organizations, and university circles to find solutions to these issues. Adnan Sarwar also pointed out the importance of connecting research work and findings with policymakers to bring about true implementation of national objectives.