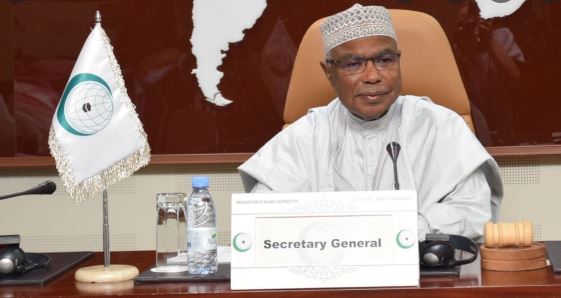 DNA
New York: The Contact Group on Muslims in Europe of the Organization of Islamic Cooperation (OIC), chaired by the OIC Secretary General, held an open-ended meeting in New York, on the sidelines of the 77th United Nations General Assembly Session. The meeting was held on the request of the Republic of Türkiye. Pakistan was represented by Foreign Minister Bilawal Bhutto Zardari.
The OIC Secretary General, Hissein BrahimTaha, in his statement, expressed OIC's concerns regarding the surge of anti-Muslim sentiment in some European countries and called for further efforts to enhance constructive engagement and dialogue in order to promote inter-cultural harmony and mutual understanding, tolerance and respect.
The Meeting reviewed the overall situation of Muslims in Europe since the last meeting of the Contact Group, held on 22 March 2022 in Islamabad, and reaffirmed OIC's unwavering support for the Muslim communities.
The Meeting expressed deep concern over the worrying rise of anti-Muslim sentiment, Islamophobia, hate speech and right-wing extremism and the trend of violent incidents against Muslims in some European countries driven by hate speech and pervasive discrimination; and firmly rejected the far right's divisive, intolerant and exclusionary political rhetoric.
In his remarks, Foreign Minister Bilawal Bhutto Zardari underlined that Islamophobia – which has extended roots in European history – has now become endemic in several countries across the globe, especially in its gravest manifestation in India. He noted that the rise in hate crimes against Muslims as well as discrimination in education, citizenship, immigration, employment, housing and healthcare, among others, were well documented. The gender aspect of Islamophobia was also gaining prominence, with Muslim girls and women being targeted due to mode of their dress.
The Foreign Minister presented a four-point action plan for better protection of Muslim Minorities in Europe and urged the OIC member states, within the framework of their bilateral relations with European countries, to raise the challenges facing Muslims in Europe and make specific efforts to help address those challenges.