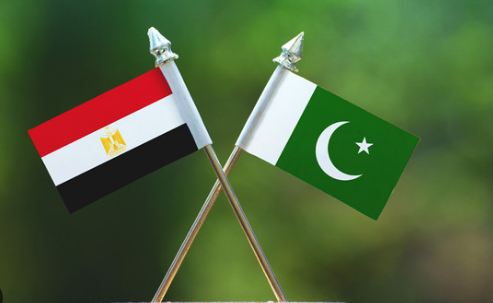 ISLAMABAD, FEB 07 (DNA) — Pakistan and Egypt on Tuesday signed a Memorandum of Understanding (MoU) to enhance academic linkages by engaging researchers of both the countries.
The accord was signed between the Institute of Strategic Studies Islamabad (ISSI) and the Strategic Studies Center (SCC), Nasser Higher Military Academy, Egypt, a news release said.
Ambassador of Egypt to Pakistan Dr. Tarek Dahroug speaking at the signing ceremony said the Egyptian Embassy had undertaken important milestones to boost the ties between both the brotherly countries.
Deputy Head of Mission, Embassy of Pakistan in Egypt, Dr Raza Shahid said the MoU would help to bring both Pakistan and Egypt closer together through academic linkages in areas of mutual interest.
Chairman of Planning, Nasser Higher Military Academy, Egypt, Col. Mokhtar Ahmed said the MoU would produce diverse linkages and cooperation between the two institutions and facilitate collaboration at regional and international levels.
Director General ISSI, Ambassador Sohail Mahmood said ISSI highly valued its relationship with the Nasser Higher Military Academy.The two institutes had interacted in the past and this MoU formalized the institutional linkages between both sides and laid the framework for building a collaborative partnership in the future, he added.
The DG said that Pakistan-Egypt relations were firmly anchored in history, common faith and convergent perspectives on regional and international issues. This was also in line with Pakistan's "Engage Africa" initiative.
Director CAMEA, Amina Khan, said that signing of MoU reflected warmth and desire on both sides to expand the scope of bilateral interaction.
She hoped that the MoU would help further the relationship between Pakistan and Egypt, through such institutional linkages between both sides for collaborative research and dialogue on issues of mutual interest. — DNA