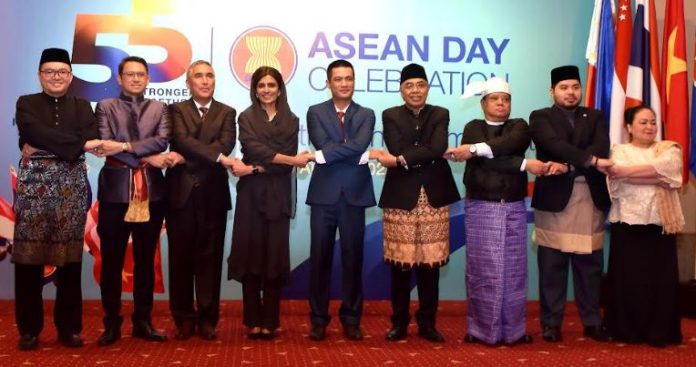 Ambassador Phong welcomes FM Bilawal's participation in the Asean Regional Forum
Ansar M Bhatti
ISLAMABAD: State Minister for Foreign Affairs Hina Rabbani Khar has said Pakistan greatly values its relations with the ASEAN countries adding efforts shall be made to further cement and deepen these relations.
The Minister made these remarks while speaking as chief guest on the occasion of 55th Anniversary of the ASEAN Day, celebrated at the Islamabad Serena Hotel. Members of the ASEAN countries, dialogue and sectoral partners also attended the reception. Newly-arrived ambassador of the United States of America Donald Blome also attended the event.
She said we can use ASEAN example as a beacon of light that how a region can come together with a view to getting goals of peace and prosperity. Over the last 55 years ASEAN has transformed itself into a vibrant and integrated economic platform, she added.
Pakistan, she said, shares the ASEAN vision of amity and cooperation and it is in this context that Pakistan has endeavored to develop and lasting and durable partnership with the member states. We believe that an integrated Asia can ensure a prosperous future for all.
Hina Khar further said Pakistan's relations with the ASEAN are time-tested and old. Pakistan became the sectoral partner of ASEAN in 1993 and since then bilateral relations are constantly on the move. In the same spirit Pakistan acceded to the Treaty of Amity during a conference held in Jakarta in 2004 and in the same year Pakistan also became part of ASEAN Regional Forum.
She added, ASEAN offered huge business opportunities and it was in the interest of both partners that bilateral and multilateral cooperation is given new dimensions.
Chairman ASEAN Committee Islamabad (ACI) and Ambassador of Vietnam Nguyen Tien Phong in his address said the 55th anniversary is celebrated with the determination that ASEAN will play its full role for economic prosperity, trade integration to promote peace and harmony with the other regions of the world.
He further said, The ASEAN underscored the importance of maintaining ASEAN's unity and Centrality in its community-building efforts and engagement with external partners, in promoting peace, security and stability as well as in enhancing regional resilience in response to common and emerging challenges, he said.
The ASEAN countries also shown its shared commitment to maintaining and promoting peace, security and stability in the region, as well as to the peaceful resolution of disputes, including full respect for legal and diplomatic processes, without resorting to the threat or use of force, in accordance with the universally recognised principles of international law, including the 1982 United Nations Convention on the Law of the Sea (UNCLOS).
He also talked about participation of Foreign Minister Bilawal Bhutto Zardari in the Asean Regional Forum held in Cambodia where he met with the ASEAN leadership. His presence indeed contributed greatly towards further strengthening of ASEAN-Pakistan relations.