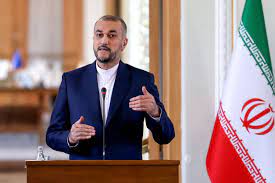 KARACHI, Aug 04 (dna):Foreign Minister of the Islamic Republic of Iran Dr Hossein Amir-Abdollahian on Friday said Pakistan, as a neighbouring and a Muslim country has always been of great importance to his country, stating many historical, religious and cultural commonalities have made the connection between the two countries stronger.
Addressing a conference titled Economic and Investment Opportunities between Iran and Pakistan at a local hotel, he said
in recent years various measures have been taken from both sides to expand the bilateral relations, particularly in the economic sector, said the Foreign Minister of Iran.
He said Iran and Pakistan had entered into different agreements such as Belt and Road initiative, as both have strategic geographic positions and are located on the path of international transportation corridors.
Dr Hossein Amir-Abdollahian said geographical locations of two ports, Chabahar in Iran and Gwadar in Pakistan have capacities that could be exploited in order to increase bilateral and regional economic cooperation between the two countries.
He said Pakistan can cover Iran's cultural market and Iran can help Pakistan meet its energy demand, for this purpose Iran Pakistan's gas pipeline has been extended by the government of Iran.
He concluded that Iran's electricity export to Pakistan is also on the rise. The total bilateral trade between Iran and Pakistan has been going up in recent years.