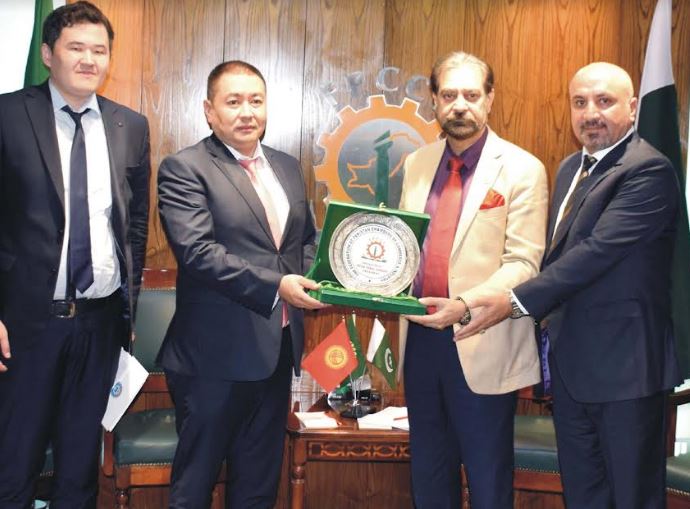 DNA
Islamabad, OCT 26 – The Ambassador Kyrgyz Republic to Pakistan Mr. Ulanbek Totuiaev, called on Mr. Irfan Iqbal Sheikh, President, the Federation of Pakistan Chambers of Commerce and Industry at Capital House Islamabad. Mr. Amin Ullah Baig, Vice President FPCCI / Incharge Capital Office & Mr. Umar Masood ur Rehman Vice President FPCCI were also present on the occasion. During the meeting underscored the need for closer cooperation in trade, investments, and energy and people-to-people contacts.  They accorded particular focus to further strengthening of exchanges Business Delegation, holding of business forms to increase the bilateral trade between both the countries and other affairs.
The Ambassador of Kyrgyzstan further said that the volume of trade between the two brotherly countries is very low, major exports of Pakistan to Kyrgyzstan are fruits, vegetables, juices, surgical instruments, textile products, pharmaceuticals, furniture, sports goods and leather etc. Similarly, Kyrgyzstan's export items are meat, dairy products, raw cow and sheep hides, mechanical and electrical equipment, aluminium, oil products, jet fuel etc.
Both countries are producing several products, which could be of great value in each other's market and compete with products of other countries in terms of affordability and quality. He further said that he was of the view that his country can act as a connectivity hub for Pakistan's exports that can reach the Central Asian and European markets by road. He also stressed that there is a great potential for tourism and investments in the Kyrgyz Republic as both nations have EU GSP+ and leveraging the free trade zones. Our nations can boost their economic activity, especially with their exports to the European markets he said. We have to take advantage of our geographical contiguity and QTTA can play a significant role in this regard.
Mr. Irfan Iqbal Sheikh, President of FPCCI said that the geo-strategic position of Pakistan and Kyrgyzstan also highlights their geo-economic importance, which could play a significant role in promoting trade connectivity amongst different regions and potential markets of the world. Promoting bilateral trade and economic relations between Pakistan and Kyrgyzstan could be a milestone in regional and global trade integration and connectivity. Due to its geostrategic importance, Pakistan is currently a major player in global and regional trade, bordering the Middle East and South Asian states on the one hand and the global economic power China on the other. He said that the geographical location of Kyrgyzstan offers many opportunities for trade with Pakistan as it is the shortest entry point of Pakistani products to the 'Eurasian Economic Markets' of 182 million people comprising Russia, Kyrgyzstan, Kazakhstan, Belarus and Armenia. The trade turnover of the Kyrgyz Republic with Pakistan amounted to $5.9 million in 2021 with Pakistan's exports amounting to $5.3 million and imports of $600,000, he said.
Mr Amin Ullah Baig & Mr Umar Masood ur Rehman Vice Presidents of FPCCI Said that Pakistan and Kyrgyzstan have a shared perception and stance towards many global and regional issues and are currently cooperating in the economy, energy, education, tourism and several other domains. The Kyrgyz Republic and Pakistan are endowed with huge reservoirs of natural resources and highly skilled human resources and there are many areas where both can collaborate. In addition, Pakistan could export its surplus fresh fruits and vegetables, especially during the winter season when there is an acute shortage of fresh fruits and vegetables in Kyrgyzstan, he said.