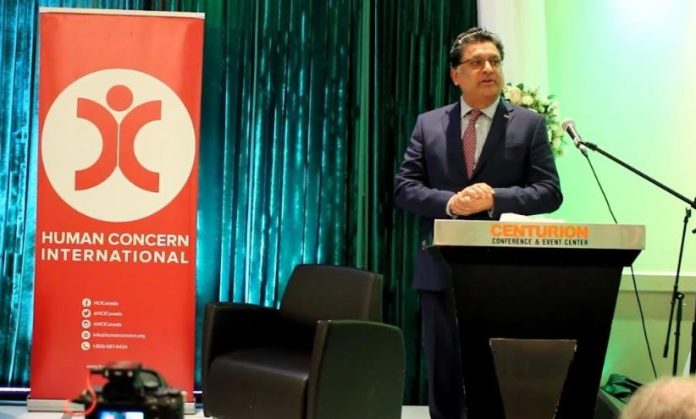 DNA
OTTAWA, OCT 26: Pakistan High Commissioner to Canada Zaheer A. Janjua has lauded Human Concern International (HCI), a charitable non-governmental Canadian organization, for raising CAD 500,000 through donations for the rehabilitation of people affected by floods in Pakistan.
He said he had travelled to various parts of Canada and had attended various fundraising events arranged by the Pakistani diaspora in Canada and he had been thoroughly impressed with the sincerity and enthusiasm with which the vibrant Pakistani diaspora in Canada had answered the call for help to their brothers and sisters in Pakistan and contributed millions of dollars to the flood relief and rehabilitation efforts in Pakistan.
He was speaking to a large gathering of Pakistani Canadians, members of the Canadian civil society, politicians, members of Canadian Parliament and Senate gathered in Ottawa under the banner of Human Concern International for raising funds for construction of houses for the flood victims in Pakistan.
Besides High Commissioner Zaheer Janjua, Greg Fergus, Parliamentary Secretary to the Canandian Prime Minister and to the President of the Treasury Board of Canada, Paul Thoppil, Assistant Deputy Minister, Asia-Pacific at Global Affairs Canada, Member Senate of Canada Ms Salma Ataullahjan, Member Parliament Shafqat Ali, Member Parliament Sameer Zuberi, Member Parliament Chandra Arya, Member Parliament Marie-France Lalonde also attended the dinner which resulted in an on-the-spot collection and contributions of CAD 102,000 funds for the flood victims in Pakistan.
It was announced that Human Concern International, run and staffed mostly by members of Pakistani diaspora had collected CAD 400,000 through two fundraising dinners held in Toronto and London Ontario in the past week. The organisation plans to use the donations for construction of houses for the people rendered homeless by recent floods in Pakistan.
Addressing the event, High Commissioner Zaheer Janjua highlighted the grave consequences climate induced calamities had caused for countries like Pakistan which had little to do with global emissions. He said that Pakistan had become a victim of climate induced catastrophic floods even though it contributed less than 1 per cent to global emissions but in the vulnerability index it was already amongst the top 5 countries.
He called for an urgent global action to deal with what he called a clear and present danger staring us in the form of climate change. He warned that Pakistan had witnessed the manifestation of climate change but tomorrow it could be some other country. He noted that while it was great to have lovely agreements such as Paris Accord to address the climate change issue, it was also necessary to pay attention to what was happening on the ground.