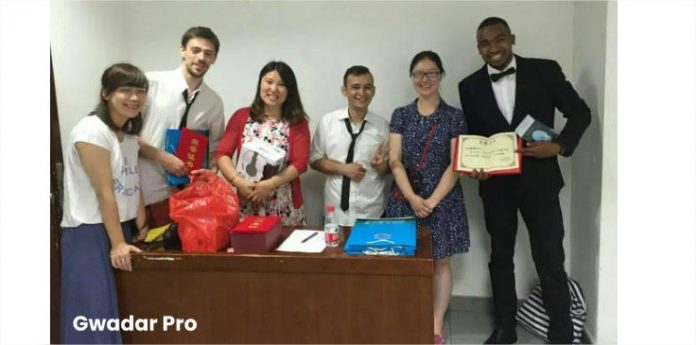 ISLAMABAD, June 16 (DNA): Number of Pakistanis, learner of Chinese language get upper hand seeking jobs home and abroad, says a report published by Gwadar Pro on Tuesday.
According to the report, since China-Pakistan Economic Corridor (CPEC) launched in 2015, a growing number of Chinese language learners have emerged in Pakistan. After learning Chinese, many Pakistanis get the upper hand while looking for jobs.
Sher Jan, hailing from Hunza, a mountainous valley deep in Gilgit-Baltistan, now is working in Abu Dhabi as a site supervisor at a large Chinese corporation. "I enjoy everything from my decision to learn Chinese. That not only broadens my cultural vision, but also brings me wealth and respect," he said with a sense of accomplishment.
As Sher Jan's hometown Gilgit-Baltistan is the nearest Pakistani region by road to China, taking geographic advantage, many of his relatives and friends began to explore business opportunities between the two countries.
However, they had difficulty communicating with the Chinese people. To surmount the language barrier, Sher Jan decided to learn Chinese and even moved to Islamabad. There he was enrolled at the Confucius Institute in Islamabad in 2014 to learn Chinese systematically.
With diligent study, in 2015 Sher Jan was granted a one-year scholarship to study in Beijing Jiaotong University. After completing the study, he returned to Pakistan to work as a Chinese interpreter at OPPO for two years. In 2018 he got the current job and went to UAE.
"I suggested many Pakistani people learn Chinese. China is on the track to lead the world in the near future, and there will be many opportunities to use or teach Chinese in other parts of the world," Sher Jan said honestly.
Data shows that only 437 Pakistanis attended the Chinese Proficiency Test (HSK) at the Confucius Institute in Islamabad in 2012, while in 2017 the number jumped to 3,659 by a sharp increase over sevenfold. Sher Jan is not an exceptional successful case.
Many Pakistanis with Chinese language skill have got satisfactory job. For instance, Mujeed Hunzai, another student from the Confucius Institute, now is working for a Chinese company supplying water treatment chemicals for CPEC power plants in Pakistan. "The students are playing an important role in Pak-Sino exchanges.
They are engaged in all walks of life as translators, interpreters, Chinese language teachers, businessmen, company employees and government officers, etc," said a teacher from the Confucius Institute in Islamabad.
Jointly built by National University of Modern Languages and Beijing Language and Culture University in 2005, this is the first Confucius Institute in the whole Islamic world. During COVID-19 outbreak, they keep providing language teaching as well as pandemic prevention tips by use of internet tools like Zoom and WhatsApp.DNA
=================