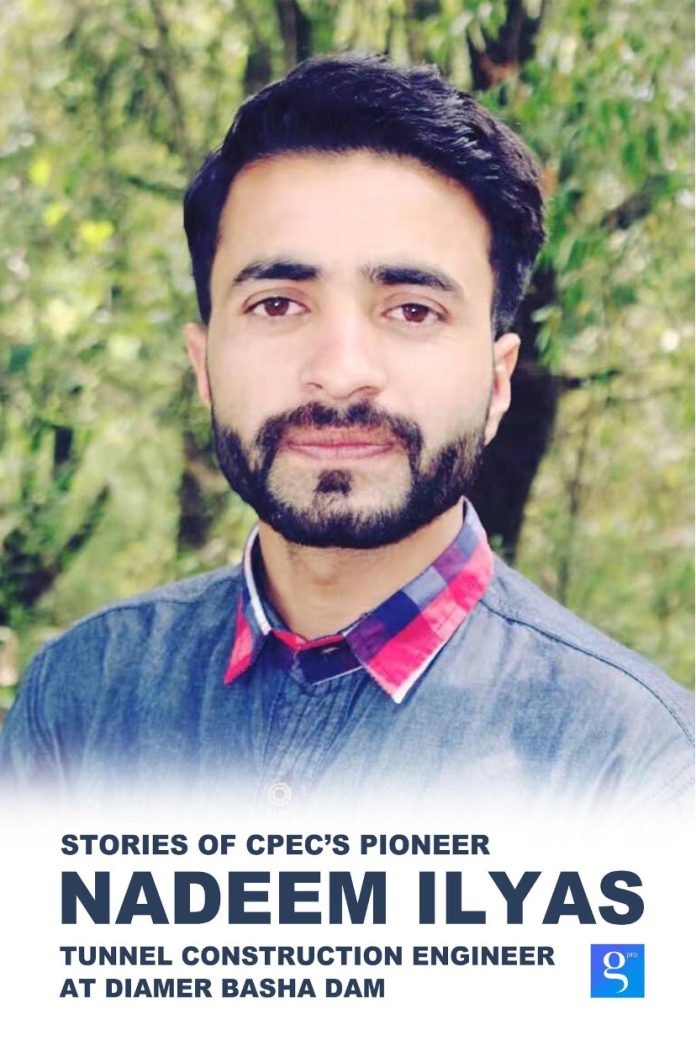 Islamabad,: A Pakistani engineer working for Diamer Basha Dam lauded Chinese staff's support in running the project successfully, according to a report published by Gwadar Pro on Tuesday. 
Touching on his Chinese colleagues, the Pakistani Engineer Nadeem Ilyas said, since joining the project, his Chinese colleagues have patiently taught him a lot of knowledge including technology, on-site construction management, as well as communication with the consultancy and the client's representative.
" We never make difference between Pakistani and Chinese. I feel that I am in safe hands working on such a project, " he remarked.
Working as a tunnel construction engineer at the Diamer Basha Dam project, Nadeem Ilyas's key responsibility is managing all the activities during tunnel construction including the execution and implementation of designs and drawings according to the specification.
He also coordinates with the consultant engineers to achieve working targets timely.

"I usually start my work early in the morning, proactively plan my day, and make sure that the most urgent work gets done first like which area needs rock support, drill to blast or excavation. After getting approval from engineers, I inform relevant workers to assign their tasks," Nadeem said.

"In my career, I am sure of one thing that I want to build a decent career in my current domain. Before this project, I worked on the Karot Hydropower project as a Tunnel Construction Engineer with PowerChina. My present job has shown me the path to move and attain what has been my long-term career objectives," Nadeem told Gwadar Pro.

When asked what his family members think of his job, Nadeem said proudly, "I am the first family member to financially support my family. My parents want me to work in Pakistan so I can look after them when they need me. For being a part of Diamer Basha, my family is proud of me."

"The project has many positive impacts on the local community. At the very beginning, there was no proper source of income for the local people, When PowerChina came here, it provided many jobs for the local people. People are working in different positions such as technical staff, operators, drivers, and labors. PowerChina gave them opportunities to learn different technical skills. By working with Chinese experts many of them will get different skills."

He is proud of the benefits the project has brought to Pakistan. "After starting of the project, the condition and environment of the local area have been totally changed. There are thousands of people who got jobs and employment made their lives easier. In addition, the lack of drinking water has been resolved and our company installed many water treatment plants for pure water," he said, referring to the project's contribution to raise the water storage capacity of Pakistan.

"Water storage capacity is 56 days currently while it's only 35 days before. As well as big changes in environmental and climatic conditions, the huge amount of storage capacity of water also makes the land more suitable for the production of crops and our irrigation system has also been improved," Nadeem added.

Diamer Basha Dam contract was awarded to PowerChina and Frontier Works Organisation(Pakistan) in 2020. Upon completion, the dam would produce 4,800 megawatts of electricity through hydropower generation, store an extra 10.5 cubic kilometers of water for Pakistan that would be used for irrigation and drinking, extend the life of Tarbela Dam located downstream by 35 years, and control flood damage by the River Indus downstream during high floods in Pakistan, according to PowerChina.

However, building such a super project will not be easy. "At the initial stage, we have faced hindrances such as raging COVID-19 pandemic and poor geological conditions. Among these risk factors, worker availability, site accessibility, shortage of construction materials, and inadequate epidemic prevention materials caused by the lockdown policy are the most fundamental challenges encountered by the projects."

"We have resolved almost these problems and the residential area is shifted near the working site, proper rest area for workers has been set aside by local community, facilities have been provided at the working site and the security is also increased," Nadeem said.

The local employees are the backbone of Diamer Basha Dam, and Nadeem is one of them. As an engineer, Nadeem has grown with the project. "Diamer Basha dam is the largest dam in the history of Pakistan and will be the tallest roller compacted concrete dam in the world, where I can learn more technical skills to build my career."
"In 2021, the Chinese Embassy in Pakistan hosted an awarding ceremony to commend outstanding Pakistani staff of CPEC projects. PowerChina nominated me for the prize which was an honor for me and my family. I am sincerely appreciating PowerChina for offering me the opportunity of working here. I have enhanced my capability, improved my work efficiency, and received a higher salary," he said. "I am proud to work at PowerChina."