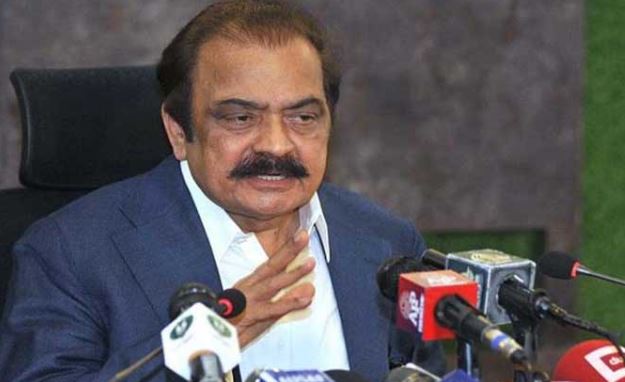 LAHORE, OCT 1: Federal Interior Minister Rana Sanaullah on Saturday said that the parliament will decide to take action under the Article 6 against Pakistan Tehreek-e-Insaf (PTI) chief Imran Khan over the audio purportedly featuring party leaders Asad Umar and Shah Mahmood Qureshi discussing the much-touted "threat cipher" with Imran Khan.
Addressing a press conference along with PML-N leader in Lahore, Rana upon PML-N vice President Maryam Nawaz's demand to take action against Imran Khan over cipher issue said that her demand is right and the parliament will decide to take action under the Article 6 against the PTI supremo.
It is pertinent to mention that during the press conference, Maryam Nawaz urged Rana Sanaullah to conduct a raid in Bani Gala to recover the original cipher.
She said that Imran Khan hatched conspiracies in the PM House and tempered sensitive documents.
The PML-N vice president said that she was angry with her party's government for not arresting the traitor, adding that the man who is spreading fitna is still at large.
Maryam Nawaz went on to say that Imran Khan got away with the original of the cipher besides tampering with the sensitive document and suggested Interior Minister Rana Sanaullah raid Bani Gala to find out the 'real' cipher.
The PTI chairman hatched a conspiracy against the sovereignty and national security of Pakistan, and its diplomatic relations, and now, no country is communicating with Pakistan as it fears the contents of its communication would be leaked, she added.