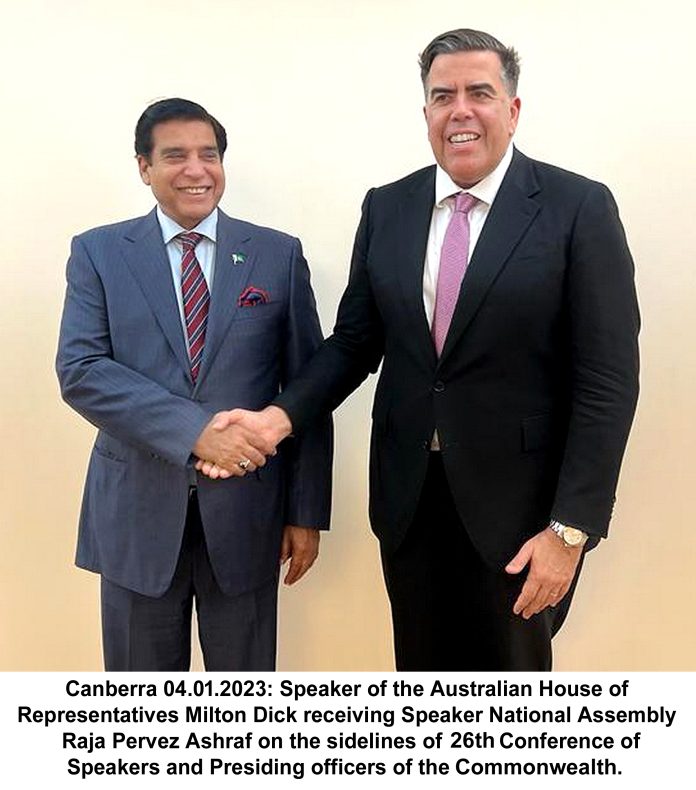 ISLAMABAD, JAN 04 (DNA) — National Assembly Speaker Raja Pervaiz Ashraf said on Wednesday that parliamentary cooperation was a pre-requisite for furthering people-to-people contacts and boosting ties among the member states of the Commonwealth.
He made these remarks during the 26th Conference of Speakers and Presiding Officers of the Commonwealth (CSPOC), being held in Canberra, Australia from Jan 3-6,2023, said a message received here.
He urged the parliaments to work jointly on common issues, particularly climate change and the socio-economic uplift of the masses, saying adaptation of modern technology can help parliaments to fast pace their workings and expand outreach to the general public.
The Parliament of Pakistan was at the forefront of modernization and digitization in its work. It is pertinent to mention that the Parliament of Australia was hosting this important parliamentary moot from 56 countries of the Commonwealth.
Raja Pervaiz Ashraf was elected to the Standing Committee of the CSPOC from the Asia Region as he participated in the inaugural session and among others, he also expressed his views at the session on Parliament's security-related matters.
Later in the day, he held an important bilateral meeting with his host, Speaker Hon Milton Dick of the House of Representatives of the Parliament of Australia. The two sides discussed bilateral and multilateral cooperation and agreed to support each other on all global and regional forums. He also held sideline meetings with Speakers from Sri Lanka, Canada, the UK, Malta and others. = DNA