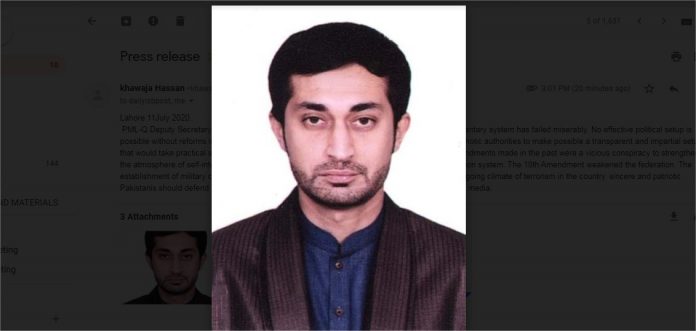 LAHORE (DNA) – PML-Q Deputy Secretary Information Khawaja Rameez Hassan has said that the current parliamentary system has failed miserably. No effective political setup is possible without reforms in parliamentary system. He said that it is the responsibility of the patriotic authorities to make possible a transparent and impartial setup that would take practical steps to strengthen the infrastructure of the state.
The constitutional amendments made in the past were a vicious conspiracy to strengthen the atmosphere of self-interest and provincialism, which caused irreparable damage to the education system.
The 18th Amendment weakened the federation. The establishment of military courts was an excellent step which played a key role in controlling the ongoing climate of terrorism in the country.
Sincere and patriotic Pakistanis should defend Pakistan army and law enforcement agencies on print media and social media.