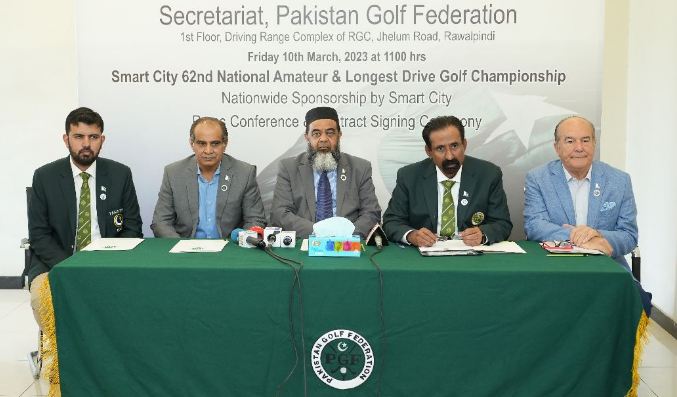 AFZAL JAVED
RAWALPINDI: The contract signing ceremony of the National Amateur Golf Championship was held here at Rawalpindi Golf Club in which Pakistan Golf Federation (PGF) signed a sponsorship contract of the Championship with Future Development Holdings (FDH) Private Limited as the title Sponsor.
In this regard Brig (retd) Sajid Akram, Secretary Pakistan Golf Federation welcomed all participants on behalf of the Federation as PGF is the supreme body of Golf in the Country.
Speaking to media about the championship, PGF Secretary Brig (R) Sajid Akram said that Pakistan Golf Federation would be holding the National Amateur Golf Championship in Lahore from April 27 to 30.
"It is endeavor of PGF to promote game of Golf in the country in best possible way, every day more and more youngsters are joining in to learn and improve their skills. We have 49 registered golf courses in the country out of which only 24 golf courses are 18/27 holes, he said."
Brig (retd) Sajid Akram said that we were also ensuring maximum possible international participation of our golfers, adding thag our team of two ladies and as many men is currently representing Pakistan in Bangladesh.
Coming to the event, the Championship includes Stroke Play Amateur, Senior & Ladies Championship; Inter Association Men & Senior Championship; International Team Match Men; International Team Match Ladies and J R Jayewardene Trophy.
"We appreciate the support of FDH for sponsoring this World Class event and we assure them that with their support the event will be conducted in best possible way.
He also lauded the effort of Muhammad Aslam Malik, Group Chief Operating Officer, FDH, Brig Nadeem Aslam, Project Director Smart City Lahore, Louis Fernandez, Chief Development Officer, Smart City Golf Course, Simon, Golf Superi Capital Smart City Golf Course In charge and Malik Kamran PGF.
"We are thankful to the media, who spared their time even in busy Schedule of Pakistan Super League (PSL)."