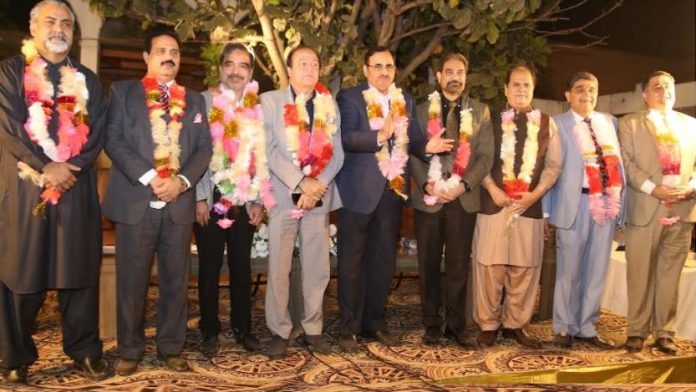 LAHORE: /DNA/ – The Executive Committee of the Pakistan Industrial & Traders Associations Front (PIAF) along with all major markets, besides industrial and trade bodies' representatives, from across the provincial capital, have expressing full confidence in the leadership of its patron-in-chief Mian Anjum Nisar here today at the main PIAF office Gulbarg.
While addressing the EC meeting, which met here today with Mian Anjum Nisar in the chair, PIAF Chairman Faheem ur Rehman Saigol along with other participants showed full solidarity with Mian Anjum Nisar, saying that more than 90% of the members of PIAF are with him, rejecting the all other self-styled factions in this trade body. In the meeting a big power show was performed by the Mian Anjum Nisar group of PIAF in the big gathering which was participated by hundreds of businessmen, belonging to all sectors of trade and industry in Lahore.
Federation of Pakistan Chambers of Commerce and Industry President Irfan Iqbal Sheikh, former PIAF chairmen and presidents of Lahore Chamber of Commerce and Industry Muhammad Ali Mian, Mian Abu Zar Shad, senior vice president of Lahore Chamber Zafar Mahmood, vice president of Lahore Chamber Adnan Khalid Butt, former senior vice president of FPCCI Khawaja Shahzeb Akram and officials of various markets also attended the meeting.
PIAF Patron-in-Chief Mian Anjum Nisar, on this occasion, thanked all the members, who came to attend the meeting and said that his group has the support of more than 150 members of PIAF, including the officials of Lahore Chamber and Market Committees which is a proof of our performance.
On this occasion, PIAF executive committee unanimously elected PIAF member Nasrullah Mughal from Kot Lakhpat Industrial Area as Senior Vice Chairman and PIAF member Tahir Manzoor Chaudhary from Brand Ruth Road Market as Vice Chairman.