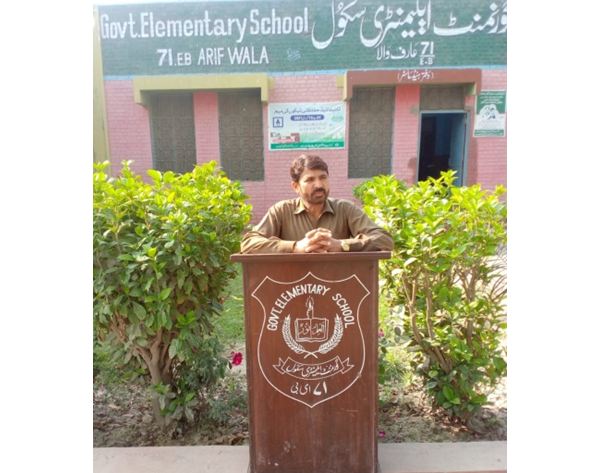 ARIFWALA / STAFF REPORT
Today, a spring tree planting ceremony was held in Government Elementary School 71 EB Arifwala under the chairmanship of Headmaster Mr. Umar Hayat Chaudhary, in which parents and other local dignitaries participated. Addressing to the ceremony, Dr. Muhammad Akram Zaheer said Today marks an important milestone in our journey towards a greener and cleaner country. As we gather here today to plant trees, we must remind ourselves of the significance of this act and its impact on our environment.
Trees are the lungs of our planet, and we need them now more than ever. They absorb carbon dioxide, release oxygen, and help regulate the temperature and climate. They also prevent soil erosion, provide habitat for wildlife, and contribute to the overall beauty of our surroundings. By planting trees, we are not only benefiting ourselves but also ensuring a better future for generations to come.
He emphasized that it is our responsibility to take care of our country village and school and do our part to protect and beautify them. We must recognize the importance of trees and make it a habit to plant them whenever and wherever we can. It is not only a way to give back to the environment, but also a way to connect with nature and appreciate its beauty.
Today, we are not just planting trees, but we are also sowing the seeds of hope, inspiration, and change. We are making a commitment to the environment and to ourselves to be more mindful of our actions and their impact on our planet. Let us take this opportunity to pledge our support to this cause and promise to make it a priority in our lives.
He furthermore stated that planting trees in our schools can also be an opportunity for community engagement. Students, teachers, parents, and community members can come together to plant trees, fostering a sense of shared responsibility and commitment to our environment. This can also serve as a way to teach our students the value of teamwork and community involvement.
Planting trees in our schools is a vital step towards creating a sustainable environment and promoting the well-being of our students. It provides an opportunity to teach our students about the importance of being environmentally responsible, as well as creating a peaceful and healthy environment for them to learn in. He invited to participants, let us all work together to make our schools villages and the country greener, more sustainable a better place for all living beings.
In the last, Dr. Muhammad Akram Zaheer also appreciated to school administration and staff that they organized a wonderful and meaningful activity.