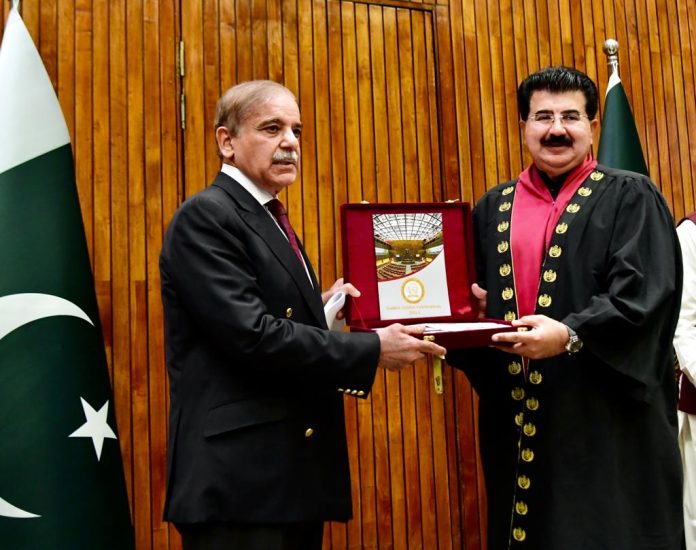 Says had to take tough decisions, assures the masses of good times ahead
Shujaat Hamza/DNA
ISLAMABAD: Prime Minister Shehbaz Sharif has admitted that the "tough decisions" taken by his government are leading to "inflation and hard conditions" for the common man but is hopeful that there is "light at the end of the tunnel".
The premier assured the masses of good times ahead in his address during the special Senate session being held in Islamabad on Thursday to celebrate the golden jubilee of the upper house of parliament.
He told the Senate that when the Pakistan Democratic Movement-led government took over the economy was facing very difficult challenges. The last government, he said, had signed an agreement with the International Monetary Fund (IMF) but did not adhere to its conditions.
"We took over through a constitutional instrument and this coalition government faced a very difficult challenge and we had two choices," PM Shehbaz said, adding that the first option was that the current government could follow the path taken by the Imran Khan-led PTI government.
"The other path was to show the highest level of responsibility, the highest level of maturity and the highest level of statesmanship," the premier said. The current government, he added, through a consultative process adopted a path which would protect Pakistan.
"We had to take some bold decisions. And the process certainly led to inflation and tough conditions for the common man in Pakistan but we did not shy away from taking those decisions."
He added that the coalition government "saved the state and sacrificed their politics".
"I have to say that we are going through a difficult period but there is light at the end of the tunnel, provided you are sincere to the cause," the premier said, adding that Finance Minister Ishaq Dar "is working tirelessly to turn around the economy".
Everyone is human and makes mistakes but it is important that lessons are learnt from those mistakes, he added.
In the past, the premier said, political leadership had sat together many times to find solutions. He cited the example of 2014 when the political leadership united against terrorism. "Nations tackle such challenges with a political vision."
Premier Shehbaz said when he was in opposition he had attended the National Assembly session on COVID-19. He added that they listened to his predecessor's speech but he left without listening to them.
"A national leader does not have ego, arrogance, hatred and anger," he said, lamenting that the law is being flouted today and institutions are being disrespected.
"We were being thrown in jails on baseless charges. No one took the law into their hands unnecessarily," the prime minister added. In order to fix the economy, he further said, there is a need for political stability. "If there is no political stability then economic stability is a dream that cannot be fulfilled."
PM Shehbaz also said that Pakistan will secure the IMF tranche but at the same time called for all political leaders to sit together and take important economic decisions.
"Political differences should be left aside and sought-after decisions should be taken. There is still time for us to come to our senses."