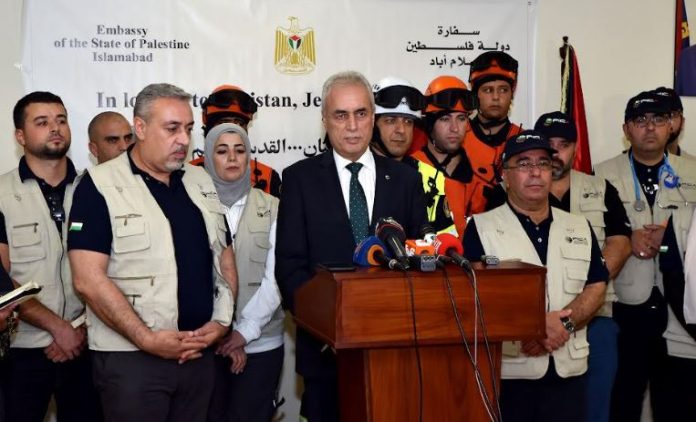 The Palestinian Disaster Response Team includes 27 professional Palestinian members formed by the Ministry of Health, the Palestinian Red Crescent and the Civil Defense
Ansar M Bhatti
ISLAMABAD: In a rare show of solidarity with the Pakistan brothers and sisters the Palestine government has sent a special humanitarian and relief mission to Pakistan to be at the side of the people affected by the devastating floods.
A team of doctors, members of the Red Crescent and the Civil Defence arrived in Pakistan on Saturday September 17, 2022. Ambassador of Palestine Ahmed Rebai arranged a media interaction with the visiting team with a view to apprise members of Pakistani mass media about the objectives and mandate of the Palestine relief team.
Mian Riaz Hussain Pirzada Minister of Human Rights, Mr. Musawwar Abbas Shah, Director Middle East Ministry of Foreign Affairs, Ambassador of Palestine and all the Embassy staff welcome the Palestinian team at Islamabad Airport.
The Palestinian Disaster Response Team includes 27 professional Palestinian members formed by the Ministry of Health, the Palestinian Red Crescent and the Civil Defense. These actions are going to be Part of the Palestinian People campaign "In loyalty to Pakistan … Jerusalem with you" which was launched by The Palestinian Presidency last month for victims of Pakistan's floods.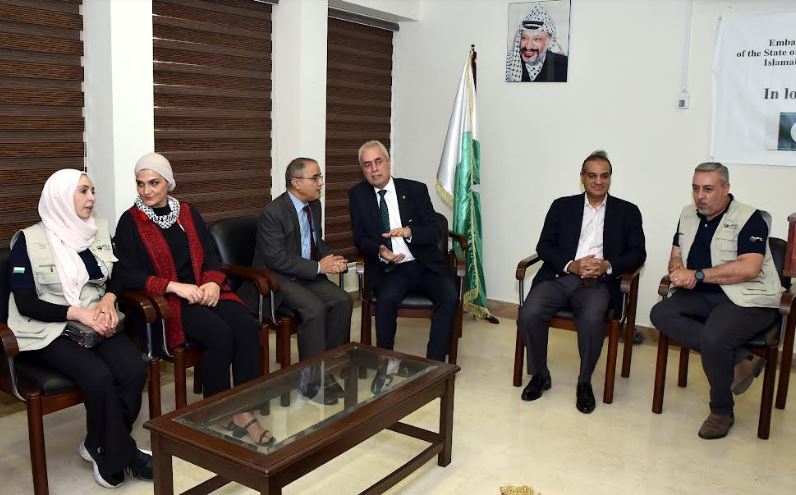 Imad M. Zuhairi, Assistant to the Minister of Foreign Affairs and Expatriates for IR/ PICA Director General is leading the team, which is scheduled to stay in Pakistan for eight days. The team shall be taking care of the humanitarian and relief operations in Dera Ismael Khan.
Mr. Zuhairi told this newspaper that this is the first mission whose mandate is to carry out relief and humanitarian work while another mission shall arrive soon that will take care of infrastructural jobs.
He further said that the government and people of Palestine have always been indebted to Pakistan for its unflinching support to the cause of Palestine. He said when President Mahmoud Abbas heard about this natural calamity, he immediately ordered a relief mission to Pakistan.
Javed Ahmed Umrani, Additional Secretary (ME) Ministry of Foreign Affairs while speaking on the occasion thanked Palestine government and people for extending this generous support at a critical juncture. He added, Pakistan always supported Palestine in its struggle for a separate homeland.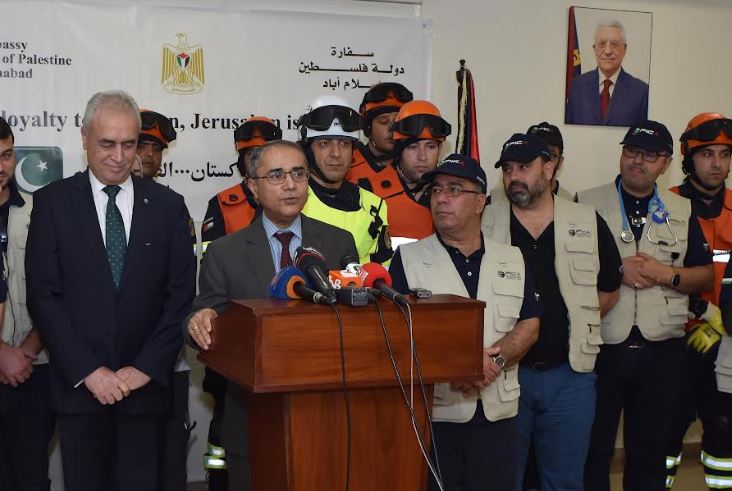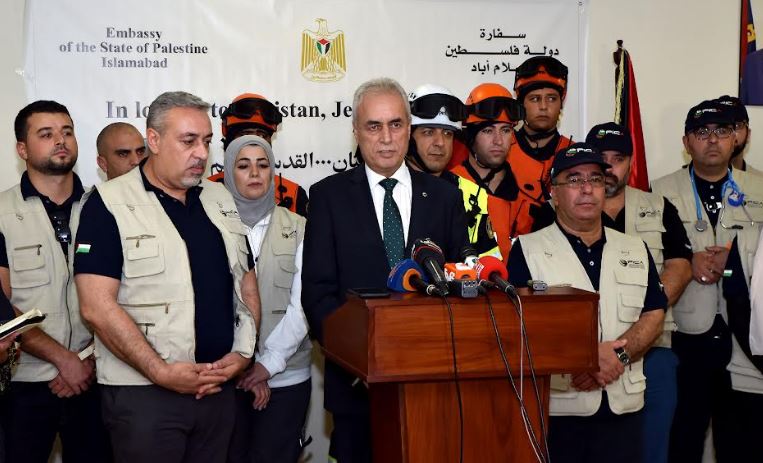 Ambassador of Palestine Ahmed Rabei in his remarks that hearts of people of Palestine and Pakistan throbbed together adding tons of humanitarian goods had already been dispatched to the areas of Swat and Sindh. Ambassador Rabei added, Pakistan despite its economic and other challenges always whole-heartedly supported Palestine for which the entire Palestinian nation owes a great deal to the Pakistani brothers and sisters and the respective governments as well.