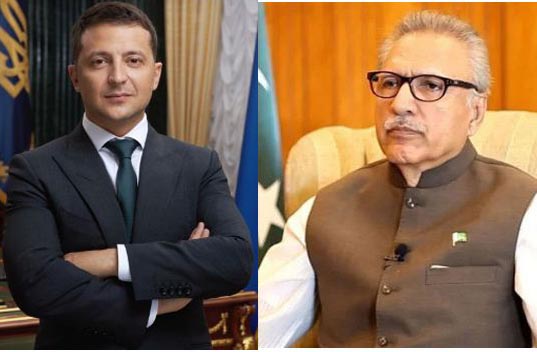 DNA
Islamabad, 22 Feb: President of Ukraine, Volodymyr Zelenskyy, made a telephone call to President Dr. Arif Alvi today.
The two leaders discussed the Pakistan-Ukraine political and economic ties, including energy and food security issues facing the developing world in the wake of the ongoing Russia-Ukraine conflict. Both sides emphasized the need for enhancing economic and trade relations for the mutual benefit of the two countries.
President Zelenskyy, referring to his ten-point peace formula, sought Pakistan's support on the draft resolution being tabled in the United Nations General Assembly for ending the Ukraine-Russia conflict.
President Dr. Arif Alvi conveyed that Pakistan remained deeply concerned at the conflict in Ukraine. He added that Pakistan supported a peaceful solution to the conflict in accordance with the UN Charter. He further said that the contents of the draft resolution were being evaluated by the Government of Pakistan.
President Zelenskyy also extended an invitation to the President of Pakistan to visit Ukraine.