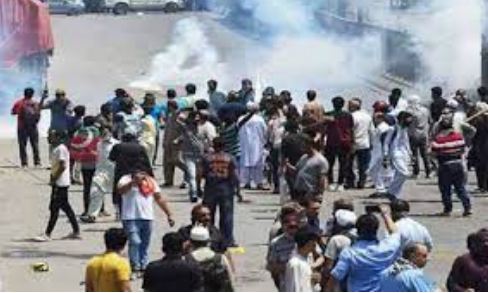 Caretaker PM's statement regarding May 9 surprising, concerning: PTI Spokesperson
Says interim govt sole mandate to hold free, fair, timely polls
ISLAMABAD: /DNA/ – Pakistan Tehreek-e-Insaf (PTI) spokesperson called the Caretaker Prime Minister Anwaar ul Haq Kakar's statement in the context of May 9 events very surprising and concerning, reiterating his party demand to constitute an empowered judicial commission to bring the truth before the nation in this regard sans any further delay.
Reacting to the caretaker PM's interview to a private TV, PTI spokesperson said that the Caretaker PM gave statements on all issues except of holding free, fair and transparent polls within the constitutionally mandated timeframe, which clearly reflected that apparently he was still unable to properly realize his constitutional mandate and responsibilities.
He reminded that Kakar's government had the sole responsibility to hold free, fair and transparent elections within the stipulated period of 90 days.
However, the PTI spokesperson stated that ironically, the Caretaker PM seemed to be talking and making statements on every topic apart from the holding of the polls.
He made it clear that the country could no longer tolerate flawed and misleading statements at the government level, adding that these sorts of narratives undoubtedly seemed to be an attempt to conceal the facts related to events of May 9, which the nation did not accept come what may.
PTI spokesperson went on to say that the nation was still waiting for an impartial and high-level judicial probe into all aspects of the events of May 9 to unmask the truth in this regard.
He demanded that if the caretaker PM had any credible evidence related to May 9 events he should present before the nation forthwith, because unsubstantiated rhetoric on sensitive national issues by the state officials, especially the caretaker government was a cause of anarchy and chaos in the country.
PTI spokesperson reiterated his party Chairman Imran Khan's demand for an impartial and empowered judicial commission to investigate the May 9 incidents without any further delay to bring the truth before the nation.