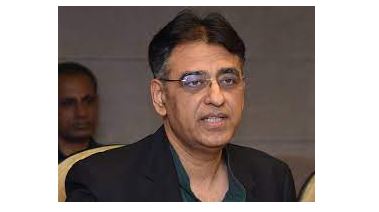 DNA
Says PDM's strategies, intrigues to block public storm led by Imran Khan doomed to fail / Claims ECP in cahoots with PDM trying to ban / political funding raising to facilitate few corrupt families / Farrukh says ECP violated SC, high court's decisions to treat PPP, PML-N like ladlas
ISLAMABAD: Lashing out at the ECP for going beyond its legal and constitutional ambit to give unilateral decision against PTI in the party's prohibited funding case, PTI Central Secretary General Asad Umar said that crying and yelling of cabal of thieves were justifiable because they had been strategizing and plotting for years to disqualify Imran Khan but they got nothing except facing collective humiliation and embarrassment.
Speaking at a press conference along with PTI Secretary Information Farrukh Habib, PTI senior leaders including Senator Azam Swati, Ghulam Sarwar Khan and Sardar Azhar Tariq, he said that the ECP in cahoots with the PDM tried its level best to block the doors of funding being collected from overseas Pakistanis to leave the political ground open for a selected few corrupt families.
Asad said that if there was any iota of doubt regarding biasness and prejudice of the commission, it should be removed now after its one-sided decision announced on Tuesday.
He announced that PTI would file two different petitions one of contempt of court petition against ECP for violating the Supreme Court and high court's decisions for not giving verdict against PPP and PML-N together with PTI.
Asad said that the second petition would be filed against ECP decision for having too many loopholes in the verdict
He said that Chairman PTI emerged as the real political threat for the few corrupt families, which promoted the culture of lotacracy by buying loyalties of politicians through looted money, that was the reason they resorted to all possible tactics to block his way since he was the only leader who stood like a rock against cartels and mafias.
"People trust Imran Khan that's why they sent their money to him when he started the fundraising events. If you block the donations, the only way remaining is that of powerful people," he added.
Asad urged that the ECP should publish all PTI funding-related documents submitted to the commission along with PPP and PML-N so as the masses could know the reality.
He said that the PDM's all strategies and intrigues to block the public storm led by Imran Khan were doomed to fail, adding that PTI Chairman enjoyed immense popularity, which could be judged from the public overwhelming response when his government was ousted through foreign conspiracy.
However, he added that the cabal of thieves in connivance with the ECP were using all technical means to close the door of political fund raising, the culture introduced by Imran Khan in Pakistan, to facilitate few corrupt families.
"Bilawal Bhutto Zardari blamed Nawaz Sharif of taking money from Osama Bin Ladin to topple Benazir Bhutto's government but no action has been taken against PML-N," he added.
He said that the ECP lost its neutrality and the biased decision speaks volume about it, adding that PDM was mourning because they left no stone unturned to find anything to ban PTI; however, they miserably failed in their nefarious designs because PTI provided all documented records about its funding.
Asad clarified that Imran Khan did not submit affidavit, as it was a certificate; therefore there was nothing to worry about it.
He said that there was no threat to Imran Khan's political future but surely to the corrupt system and to the power greedy crooked families.
Speaking on the occasion, Farrukh Habib said that the ECP violated the Supreme Court and IHC decisions under which the commission has to examine all political parties without discrimination.
However, he said that the commission treated PPP and PMLN like ladlas as no progress has been made pertaining to their funding cases despite pending for years.
He said that both the PML-N and PPP had no record of millions of their foreign donations while PTI submitted all its records every 6 months in the US.
Farrukh Habib once again challenged both PPP and PML-N of open debate in front of world known experts regarding the prohibited funding; however he said that these two parties did not accept the challenge because they did not have the required documents.
He said look at the prejudice of the ECP that even the donations given by PTI ticket holder were declared prohibited funding.
He said that PDM has been deeply disappointed, while it was a day of great disappointment for some media groups as well who propagated that there would be a big news that PTI would be banned today.