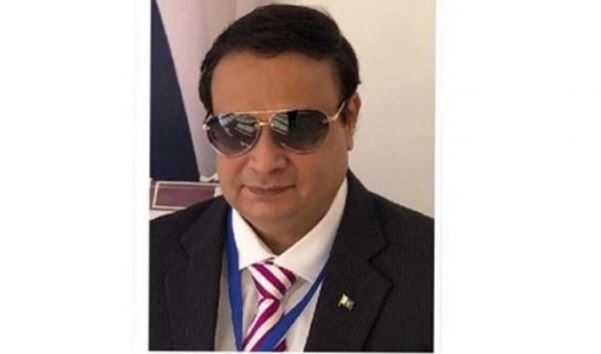 Dr Mehmood Ul Hassan Khan
High speculations fetch high escalations in the Indo-Pacific region. Expected visit of the US Congress Speaker Nancy Pelosi to Taiwan has created great political fuss and diplomatic uneasiness between China and the US and resultantly military has been put on red alter.
To counter this unethical and unprofessional diplomatic act of Pelosi, two Chinese aircraft carriers have been diverted toward Taiwan. Air force has been reactivated to mitigate any external onslaught clearly indicating strong resolve of China to protect its "One-China Policy", territorial integration and national sovereignty at any cost.
Moreover, China is all out to defend it and if speculative visit of Pelosi happens that would be disastrous for international law, diplomatic domain and principles of constructive engagement. So madam Pelosi should stay away from her "misadventure" toward Taiwan.
Pelosi's expected visit to Taiwan has serious spillover socio-economic, geopolitical and geo-strategic repercussions for all the regional countries and beyond. It fears that economic recovery in the post COVIDD-19 would be further weakened and compromised. Geopolitical conditions would be further deteriorated. Geostrategic compulsions would be further degenerated. So madam Pelosi visit to Taiwan must be discarded otherwise regional peace and global stability would be tittered.
It fears that speculative visit may open a gate of further conspiracies, compromises and cacophony in the region. It would further consolidate anti-China doctrine and consequently so-called strategic partners of the US become strong.
It seems that the dreams of NATO Asia would come closer to bitter reality and subsequently wolves would be knocking at the doors of regional stability, peace, prosperity, and harmony. Thus madam Pelosi should avoid these acts of irresponsibility, statements of irrationality, and postures of illogicalness and last but not least, signaling of foolishness because Chinese stakes are very high and the US stares will achieve nothing but more division, destruction and indecency afterwards between two countries and of course in the region.
Global movers & shakers are now carried out notorious schemes of hybrid warfare against China through social media by disseminating false, fake and fictional propaganda against China. However, Chinese holistic policies of global peace, greater regional connectivity through sustainable socio-economic integration, harmony through multiculturalism, political consensus through dialogue & diplomacy and last but not least, unilateralism and equality through Xi Global Development Initiative have been striking hard to eradicate conspiratorial makeovers of the US and the West alike. Therefore political sanity should prevail at once and madam Pelosi should cancel her visit to Taiwan.
Unfortunately, expected visit of the US House Speaker Nancy Pelosi on Tuesday night to Taiwan Straits has now immensely intensified the situation across the Taiwan Straits. Hasty military deployment of the US and the island of Taiwan is meeting with matching military response of China.
In this regard, the Chinese foreign ministry has already termed it a serious provocation and violation to China's sovereignty and territorial integrity which would be met with severe countermeasures from the Chinese military.
Naval sailings and strategic readjustments have been ordered and implemented accordingly. China's Maritime Safety Administration, and the Shandong Maritime Safety Administration has issued a navigation warning, saying that the Weifang port in Bohai Sea will conduct live fire from 15:00 to 24:00 on August 3. The Qinglan Maritime Safety Administration of South China's Guangdong Province also issued a navigation warning due to conducting military training in parts of the South China Sea from Tuesday to Saturday. Thus madam Pelosi speculative visit to Taiwan has forced the Chinese PLA to take all possible measures to further strengthen itsdeterrence against the US increasingly warmongering and belligerent acts.

The Fujian Provincial Military Command neighboring said that the minuteman missile unit, anti-aircraft artillery unit, radar unit and other combat units have been put red alter first time in recent years.

The Reuters reported that several People's Liberation Army (PLA) aircrafts flew close to the "median line" of the Taiwan Straits on Tuesday morning, following the Taiwan-based outlets that said two Chinese mainland guided-missile frigates and a survey ship sailed from north to south through Yonaguni Island waters, heading east of Taiwan island.
Chinese Foreign Ministry spokesperson Zhao Lijian on Monday sternly warned Pelosi's potential visit to Taiwan, stressing that "the PLA will not sit idly by" and will take "resolute and strong countermeasures" to protect China's sovereignty and territorial integrity. Pelosi must abandon provocative plan.
Foreign Ministry spokesman Zhao Lijian said at a regular news conference Chinese military will not sit idly on the visit of the US House Speaker Nancy Pelosi to Taiwan.
"The Chinese side is fully prepared for any eventuality," Foreign Ministry spokesman Zhao added. China will definitely take strong and resolute measures to safeguard its sovereignty and territorial integrity."
Amid escalating cross-Straits tensions due to possible visit of US House Representatives Speaker Nancy Pelosi, Zhang Jun the Chinese's top official to the UN warned that the visit is dangerous and provocative, as the one-China principle is a red line in China's relations with other countries, and China allows no one to cross this red line. Zhang rightly termed Taiwan as an inalienable part of China's territory. The one-China principle is a red line in China's relations with other countries, and we allow no one to cross this red line, he said.
Moreover, China has also firmly opposed any separatist move toward 'Taiwan Independence' and any interference by external forces, and allows no room for 'Taiwan Independence' in whatever form," he said.

The Chinese official also pointed out that China has repeatedly made clear to the US its serious concerns over Speaker Pelosi's potential visit to Taiwan as well as China's firm opposition to it. Such a visit is apparently dangerous and provocative and will send a seriously undermine the one-China principle, China's sovereignty and territorial integrity, undermine the peace and stability in the Taiwan Straits, and undermine the relationship between China and the US.
Hawks sitting in Joe Bidden administration should not provoke China and test its patience on the issue of Taiwan and focus their own domestic problems of indiscriminating gun shooting, human rights abuses, declining economy and disintegration of social fabrics.
So Madam Nancy Pelosi please stay-away from this "diplomatic coup" because such provocations may be counterproductive and lethal for regional stability and global peace alike. All regional countries should also act sensibly and not be party to these sponsored designs of regional instability.
Last thing which Pelosi should keep in her mind that US "Statue of Liberty" is crying for genuine glimpses of freedom, human rights, economic equality and rule of the law in the country. So there is no need to build another so-called statue of liberty somewhere else.
Dr MehmoodUl Hassan Khan
Executive Director: The Center for South Asia & International Studies (CSAIS)
Regional Expert: China, CPEC & BRI