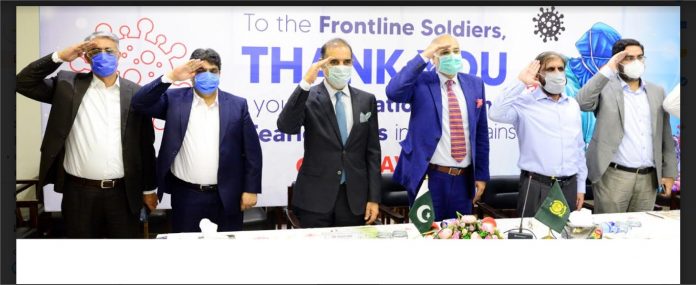 DNA
Rawalpindi: JUNE 24 – The business community salutes the role of doctors fighting on the front lines against Covid- 19. The Rawalpindi Chamber of Commerce and Industry (RCCI) is going to launch a campaign that includes all schools of thoughts aimed to pay rich tribute to doctors, health-workers.
Twin Cities (Rawalpindi, Islamabad) All doctors and paramedics will be given a special discount of 10% on the purchase of medicines. All doctors and paramedics will be given a gift hamper in addition to this discount. A welcome banner will be placed at the chemist's shop. Today's announcements are the beginning of this campaign. Further programs and measures will be taken.
RCCI President Saboor Malik's along with Group Leader Sohail Altaf, PCDA Punjab President Zahid Bakhtawari in a media briefing at chamber house on Wednesday, announced that this facility is valid till 31st August. A flag march is also part of the campaign. White flags will be hoisted on RIPDA vehicles in which doctors will be greeted.
He said, "Just as a man in a khaki uniform fights against the enemy on the border, so these men in white coat are fighting for all of us today. We are indebted to the spirit and service of the soldiers in white coats".
RCCI president said that District Administration, Station Headquarters, Cantonment Board, Civil Forces, Police, Traffic Police, 1122, RWMC, Volunteers, Academia, Anjuman-e-Tajiran and Pharma Trade all are on board and we aimed to promote message of oneness in this drive.
Group leader Sohail Altaf said that doctors and paramedics are our front line soldiers in Corona epidemic. The entire nation, especially the business community, pays heartfelt tribute to their role. I also appeal to my media friends to take part in this campaign by considering it as a National Cause.