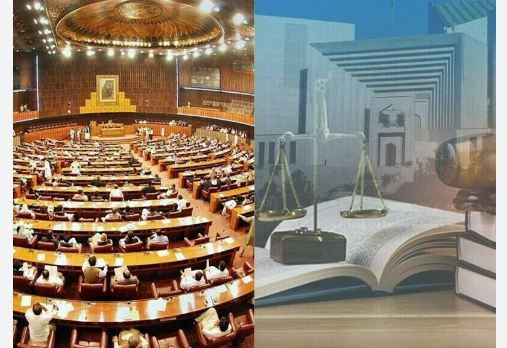 ISLAMABAD, May 01 (DNA): Supreme Court of Pakistan registrar's office
has returned a plea seeking the restoration of Punjab and Khyber
Pakhtunkhwa (KP) assemblies.
As per details, the registrar's office has raised objections and
returned the plea seeking restoration of Punjab and KP assemblies.
The plea was filed by a citizen named Rai Ishtiaq Ahmed in Supreme
Court. The objection raised on the plea stated that the petitioner did
not file the plea to the concerned forum despite their availability.
The top court's registrar's office objected that the petitioner is not
an aggrieved party in this petition.
Furthermore, the use of Article 184(3) powers in this petition are not
justified.
Earlier, the Election Commission of Pakistan submitted a report to the
Supreme Court regarding progress on the delivery of funds from the State
Bank of Pakistan for the Punjab elections.
The ECP was ordered to submit a progress report regarding the delivery
of funds today as the dateline set by the SC expired yesterday.
The ECP in its report informed the top court that the SBP did not
transfer Rs21 billion for Punjab elections despite the direction of the
court.
It is pertinent to mention here that on April 14, a three-member bench
in the case of elections delay in Punjab and KP ordered the SBP to
directly issue Rs21 billion for the election and submit its report on
April 18.