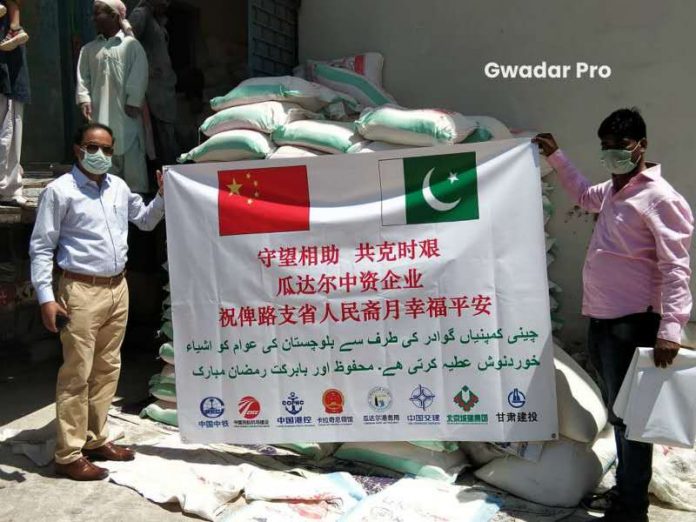 ISLAMABAD, APR 13 (DNA) – Chinese Consulate in Karachi and six Gwadar-based enterprises have donated food items to 2000 underprivileged families in remote Balochistan to help them pull through the hit of the COVID-19 epidemic and ensure a peaceful forthcoming Ramadan.
According to Gwadar Pro App, the donation contains 50 tons of flour, 4000kg sugar, 2000 liter edible oil and 2000kg dates.
Besides the Consulate, the supplies are jointly provided by China Communications Construction Company, China Rail Group, Beijing Urban Construction Group, China Airport Construction Group Corporation, Gansu Construction Investment (Holdings) Group Corporation, and China Overseas Port Holding Company.
Confronted with the relentless COVID-19 virus ravaging across the country, Pakistan sealed off cities and transportation.
Such a measure contains the spread of the virus to some extent but hit hard the vulnerable families, especially those with low income.
Chinese Consul general in Karachi Li Bijian expressed empathy for the Baloch people who have been inflicted in the adversity, saying that Gwadar-based companies have been endeavoring to meet their social responsibilities by helping local people weather hardships.
Li said, "it is the traditional virtue of the Chinese nation to be benevolent and to help those in need. And we hold dear the profound friendship between China and Pakistan and the support of the local people to our work. We wish a peaceful and tranquil Ramadan for our Pakistani friends!"
The Senate of Pakistan, Balochistan provincial government, Pakistan army, and navy provide guidance and assistance to the activity. Pakistan Navy specially sent warships to transport the flour, sugar, edible oil and other materials from Karachi to Gwadar Port.
China Overseas Port Holding Company, together with the Gwadar Regional Committee, the Office of the Chief Executive, Fishermen Association and other institutions formed a special team to carry out the donation.=DNA
=============