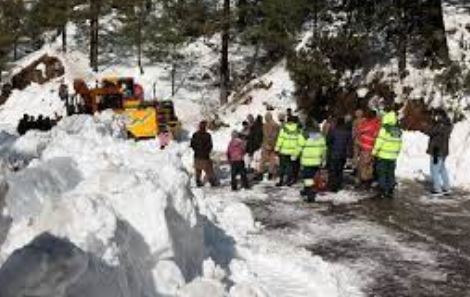 RAWALAKOT, JAN 09 (DNA) — Many roads were blocked and the tourists stranded due to the heavy snowfall in the upper regions of Azad Jammu and Kashmir (AJK) and Khyber Pakhtunkhwa (KP).
At least 12 students of Punjab University, Lahore were stranded due to an avalanche in the upper region of Neelam Valley, Kel Siri. The rescue teams reached the spot late at night. They rescued the stranded students and shifted them safely to Tehsil Headquarters (THQ) Hospital, Sharda. The students were the tourists, and they were on their way in three vehicles to Kel from Lahore.
Two of their vehicles were moved to a safe place while the third was still stuck in the snow and will be removed when the weather clears. Meanwhile, snowfall in Neelum valley stopped. Neelum Highway was closed from Sharda to Taobat due to heavy snowfall. The tourist places including Sharda, Kel Valley, Lawat Bala, and link roads were closed.
Citizens are faced with great difficulties as the electricity and communication systems have been affected badly. There was 13 feet of snow recorded in the tourist place Taobat, and five to six feet of snow was recorded on the mountains.
According to the Meteorological Department, a new spell of snowfall will start after a one-day gap, and it will continue for three days at least. Similarly, rains and snowfall in Rawalakot caused the intensity of cold to increase. The upper areas of Rawalakot including Toli Peer, Singola, Bairota, and Ganga Peak received snowfall. All the regions of Rawalakot are under the grip of freezing winds.
There has been witnessed an increase in demand for LPG cylinders, firewood, dry fruit, and warm clothes. One-week holidays were announced in the private educational institutions due to the cold weather. However, the public educational institutions were reopened after winter vacations. The District Disaster Management Authority (DDMA) issued an alert about weather.
In Lower Dir, link roads were blocked due to heavy snowfall in Shahi, Maidan, and Laram. People are faced with a great deal of inconvenience due to the continuous snowfall for two days. The snowfall has paralysed the normal life. The snowfall spell will resume tomorrow after a one-day break. = DNA