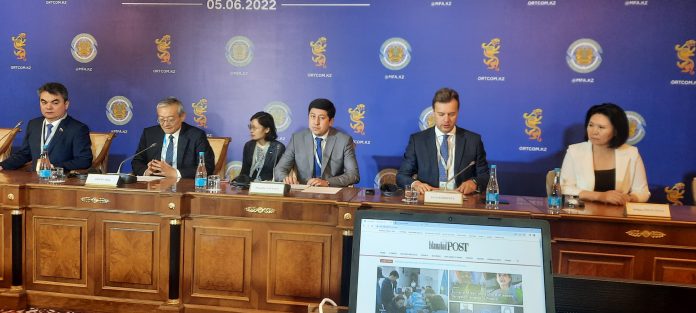 77.18 per cent say yes; SCO, other observers declare the entire drill transparent; flawless
Ansar M Bhatti
In Kazakhstan
NUR SULTAN: The people of Kazakhstan ostensibly set the basis for a new Kazakhstan when they voted overwhelmingly in favour of the Referendum that took place on Sunday, June 05, 2022 to determine whether the people wanted to have a new look-country with more powers to the parliament and the people. As announced by the Central Election Commissioner 77.18 per cent population voted in favour of the referendum.
The officials of the Central Election Commission further told the media people that over out of over 11 million eligible voters over 07 million voters took part in the exercise. The turnout thus remained at 68.6 per cent. Those who voted against stood at 18.6 per cent while 2.58 votes were declared invalid.
The election commission officials termed the entire election drill as satisfactory and according to them no issues whatsoever were reported from anywhere. The commission also praised the government for extending its full support to all those conducting the election.
The Secretary General of the Shanghai Cooperation Organization (SCO), Zhang Ming in his briefing lauded the role of the Kazakh authorities for making befitting arrangements for the successful holding of the referendum. He said his mission visited a number of polling stations and found no violations anywhere.
The SCO Secretary General further said the Kazakh Ministry of Foreign Affairs spared no efforts in facilitating the foreign delegates for efficient performances of their duties such as monitoring and physicals visits to the polling stations.
The Russian representative was also all praise for the Kazakh authorities for making excellent arrangements. He said he visited a number of polling stations located outside of Nur Sultan randomly. He was happy to see the enthusiasm and interest with which people thronged to the stations to cast their votes.
More to follow…..