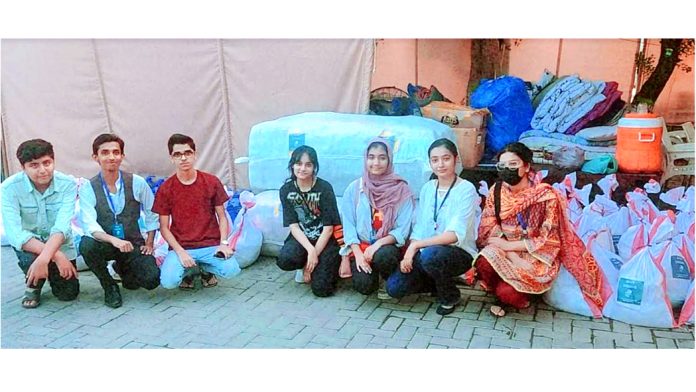 Written By: Hayah Bahroni
Torrential monsoon rains triggered the most severe flooding in Pakistan's recent history, washing away villages and leaving around 3.4 million children in need of assistance and at increased risk of waterborne diseases, drowning and malnutrition.
As floodwaters slowly recede, the sheer scale of damage is being revealed. Over 1 million houses have been damaged, with 436,307 completely destroyed and almost 736,242 partially damaged. Livelihoods has also been heavily impacted as many shops have been destroyed and more than 733,488 livestock – a critical source of sustenance and livelihoods for many families – have died, while many public health facilities, water systems and schools have been destroyed.
Young children are living out in the open with their families, with no drinking water, no food, and no livelihood, exposed to a wide range of new flood-related risks and hazards, including damaged buildings and drowning in floodwaters.
Over 2 million acres of crops and orchards have been impacted, including 304,475 acres in Baluchistan, 178,186 acres in Punjab, and 1.54 million acres in Sindh. The crisis is being aggravated by massive infrastructure damage.
The devastating flash floods have submerged one-third of Pakistan– leaving a trail of deadly havoc across the country.Flash floods and rain-induced landslides are exacerbated by the incapacity of current infrastructure to manage the unusually large amount of water.
Many rivers, including the Indus, which runs through the entire length of Pakistan, are at high flood alert levels and have exceeded their banks, and major dam reservoirs are rapidly filling or have already overflowed, posing further risk to residents in the area and downstream.
Amidst this calamity, our team, Team Save Dreams; namely Hayah Bahroni, Rafia Ali, Ayesha Siddique, Noor-ul-Huda, Husail Jamil and Abdullah Siddique; carried out two flood relief campaigns on in the months of August,2022 and September, 2022 to help our brothers and sisters in need.
The Prophet PBUH said: "You see the believers as regards their being merciful among themselves and showing love among themselves and being kind, resembling one body, so that, if any part of the body is not well, then the whole body shares the sleeplessness (insomnia) and fever with it"
In the first campaign carried out by our team, around 100 ration packets including dates, biscuits, dry milk and roasted black gram; and hundred06 literwater bottles followed by clothes and medicines were sent to be handed over to the regions been afflicted through PAF Flood Relief Camps.
In our second campaign, 50 ration packets containing wheat, rice, chickpeas, vermicelli, pickle, spices, salt, sugar, pulses, slanty and water bottles, followed by clothes and medicines were despatched to the areas of effect. In addition to this, Rupees 80,000/- in cash was also donated at PAF Flood Relief Camp, Islamabad.
As always, Team Save Dreams have come to the succor of those who are in dire need of help.Please Join hands together with us and Save lives… In the aftermath of this natural calamity, We, Team Save Dreams, pledge to continue our work with the same zeal in order to SAVE DREAMS.