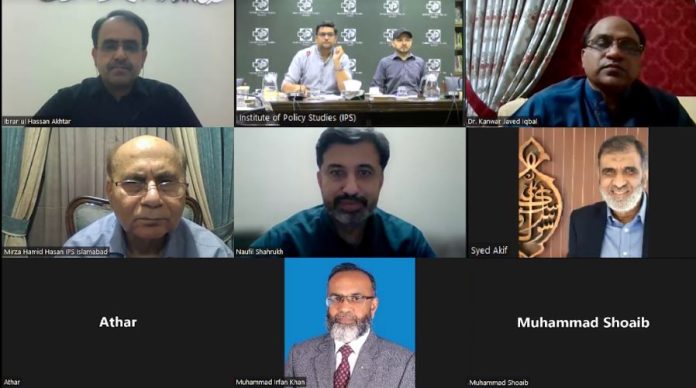 Islamabad, OCT 2 /DNA/ – Pakistan has sufficient access to satellite data, imagery, and indigenous research that can immensely help in pre- and post-management of natural disasters like floods. However, as pointed out by experts, most of the space technology resources remain underutilized due to poor governance, lack of funds, and the disinterest of the related institutions and decision-makers.
This was observed at a roundtable session, titled 'Pakistan Recent Floods from Space: Technology Perspective,' organized by the Institute of Policy Studies (IPS), Islamabad. The session, chaired by Mirza Hamid Hassan, former federal secretary, Ministry of Water and Power, was joined by the session's keynote speaker Dr. Ibrar-ul-Hasan Akhtar, scientist and climatologist, Khalid Rahman, chairman, IPS, Dr. Abdul Saboor, dean PMAS Arid Agriculture University, Rawalpindi, Syed Abu Ahmad Akif, former federal secretary, climate change, Dr. Kanwar Muhammad Javed Iqbal, senior research fellow, National Institute of Maritime Affairs (NIMA), Dr. Kamran Azam, associate professor, Department of Management Sciences, University of Haripur, and Dr. Muhammad Irfan Khan, dean Environmental Sciences, International Islamic University, Islamabad.
According to Dr. Ibrar-ul-Hasan, despite having free access to five satellites whereby flooding can be aptly monitored through daily space statistics on rainfall, flood inundation, flood damages, ground data collection analysis, etc, Pakistan lacks timely decision-making.
In this regard, the absence of readily available land data, necessary for the integration of satellite and ground data, is the major issue in Pakistan. Consequently, the decision-makers are not given timely information, giving rise to time lag and issues of quality, availability, and sharing.
While classifying space application as 'eye in the sky and boots on the ground', he emphasized that geospatial governance (G-Governance) is a burning need of Pakistan which can be achieved by timely integration of both data. He further highlighted the absence of dovetailing the information in government's decision-making to be a major missing element, as the information shared by research-based institutions is mostly ignored.
Syed Akif opined that, unless the pattern of governance is changed, there will remain a knowing-doing gap, incapability to turn knowledge into performance, in related institutions, like the Ministry of Climate Change and National Disaster Management Authority, which also lack resources, workforce, and funds.
While endorsing the lack of governance and knowing-doing gap, Dr. Irfan Khan highlighted that natural disasters can't be mitigated effectively without properly utilizing the data and bridging the gap between research and policy.
Dr. Kanwar Javed stressed the utilization of indigenous resources and available data to create future resilience and adaptation. He further recommended that, instead of waiting for climate funding from developed nations, Pakistan should indigenously build its capacity to implement the data and research under the right governance.
Dr. Kamran Azam underscored the nation's need to find indigenous resources, ways, and methods to protect itself from the vagaries of climate change by building resilient structures and lifestyles. Even though Pakistan is a victim of climate change, triggered by the 15 most prosperous nations, it can't stop its manifestations, like the glacial melting. However, with timely actions and utilization of technology, such as early warning systems, things can be made better.
While highlighting the implications of the flood on agriculture, Dr. Abdul Saboor warned the country could face acute food and nutrition insecurity. To prevent future disasters like floods and their implications, he recommended the formulation of appropriate policies and long-term planning. In this regard, space technology can be utilized in developing early warning systems and in reviewing the natural drains of the Indus River basin system. Moreover, as COP 27 is scheduled for November, Pakistan should urge the international community for climate financing and waiver of external debts, given the devastation triggered by climate change.
Supporting the speakers' views, Khalid Rahman stated that the absence of optimum utilization of available data is unfortunate and an issue of flawed governance. It is high time that Pakistan takes concrete steps to mitigate the effects of natural disasters by rectifying the governance flaws and analyzing the accessible data, he added.
In the concluding remarks, Hamid Hassan pointed out that the relevant people and institutions are unaware of the availability of research data. This is a glaring gap that needs to be filled, he stressed. While highlighting the shortcomings of the Ministry of Climate Change and provincial governments, he pointed out that the ministry, after the 18th Amendment, is solely involved with the coordination of international assistance in the field of climate change and the provincial governments lack the know-how, capacity, and resources.
The session concluded on the optimistic note that, at the COP 27 meeting, the international community would realize how the policies of developed nations have inflicted Pakistan with an unprecedented climate disaster and that they should provide the country with adequate climate funding for post-disaster management and building future resilience and adaptation.