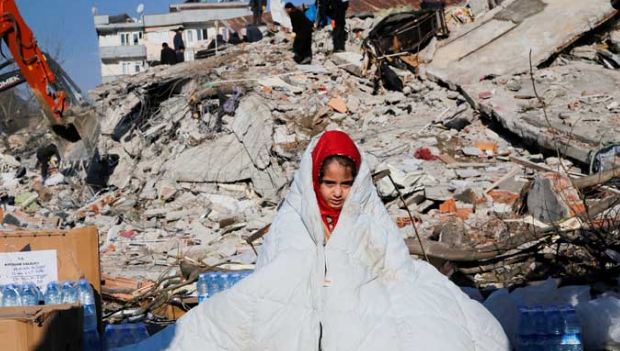 KAHRAMANMARAS/ANTAKYA: President Tayyip Erdogan on Wednesday admitted to problems with his government's initial response to a devastating earthquake in southern Turkey amid anger from those left destitute and frustrated over the slow arrival of rescue teams.
Erdogan, who contests an election in May, said on a visit to the disaster zone that operations were now working normally and promised no one would be left homeless, as the combined death toll across Turkey and neighbouring Syria climbed above 11,000.
But across a swathe of southern Turkey, people sought temporary shelter and food in freezing winter weather, and waited in anguish by piles of rubble where family and friends may lie buried. Rescuers were still digging out some people alive. Others were found dead.
There were similar scenes and complaints in neighbouring Syria, where the impact of Monday's huge quake extended to.
The death toll from both countries was expected to increase as hundreds of collapsed buildings in many cities have become tombs for people who had been asleep in their homes when the quake hit in the early morning.
In the Turkish city of Antakya, dozens of bodies, some covered in blankets and sheets and others in body bags, were lined up on the ground outside a hospital.
Families in southern Turkey and in Syria spent a second night in the freezing cold.
Many in the disaster zone had slept in their cars or in the streets under blankets, fearful of going back into buildings shaken by the 7.8 magnitude tremor — Turkey's deadliest since 1999 — and by a second powerful quake hours later.
"Where are the tents, where are food trucks?" said Melek, 64, in Antakya, saying she had not seen any rescue teams. "We survived the earthquake, but we will die here due to hunger or cold here."
The death toll rose to 8,574 in Turkey on Wednesday. In Syria — already devastated by 11 years of war — the confirmed toll climbed to more than 2,500 overnight, according to the government and a rescue service operating in the rebel-held northwest.
Turkish authorities released video of rescued survivors, including a young girl in pyjamas, and an older man covered in dust, an unlit cigarette clamped between his fingers as he was pulled from the debris.
In Syria's Aleppo, staff at the Al-Razi hospital attended to a man with bruised eyes who said more than a dozen relatives including his father and mother were killed when the building they were in collapsed.
"We were 16 and 13 of us died. My brother, one-and-a-half-year-old niece and I got out. Thank God," he said.
"My father, my mother, my brother, his wife and their four children. The wife and two kids of my brother who got out with me also died."