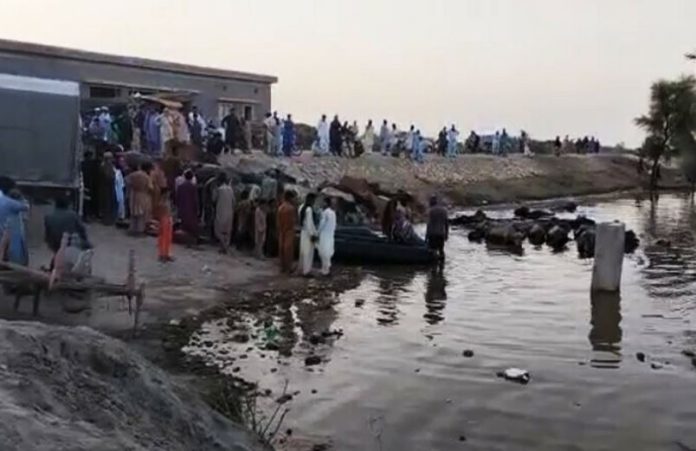 The water level in Dadu continued to rise on Friday as the overall death toll from the devastating floods, which have affected millions across the country, crossed 1,200.
The increase in water levels in Dadu is a consequence of a surge in the flow of water down River Indus, with monstrous floods leaving a trail of destruction in the country's northern regions.
Record monsoon rains and melting glaciers in northern mountains have triggered floods that have killed at least 1,208 people, including 416 children, and injured 6,082, according to the National Disaster Management Authority (NDMA).
The latest NDMA report said 19 casualties were reported over the past 24 hours.
The devastation is now spreading southwards, with floodwater gushing towards Manchhar Lake and Johi in Dadu district on Friday, Alam Rahpoto, superintendent engineer at the Sindh Irrigation Department, told Dawn.com.
He said 10,000 to 15,000 cusecs was being discharged from Manchhar Lake into River Indus on Friday morning while 70,000 to 80,000 cusecs of water was flowing into the lake from the Main Nara Valley drain and FP Bund, a flood protective dyke.
"The water level in the lake is rising rapidly but all protective dykes are strong," the official said.
Meanwhile, he continued, there was a high-level flood in River Indus in Dadu district. "There is a high-level flood in the river at the Dadu-Moro bridge."
Separately, Dadu Deputy Commissioner Syed Murtaza Shah told Dawn.com that relief and rescue efforts were under way in the area.
The Pakistan Army, Rangers and district administration are jointly carrying out the relief work, he said, adding the military and the district administration had also launched a rescue operation in kacha (riverine) areas.
On Thursday, Sindh government spokesperson and Karachi Administrator Murtaza Wahab told Reuters that "we're on a high alert as water arriving downstream from northern flooding is expected to enter the province over the next few days".
Keeping in view the impending threat, hundreds of families in the province have taken refuge on roads, the only dry land in sight for many. Many are headed for urban centres, like the port city of Karachi, which has for now escaped the flooding.
"We lost our house to the rain and floods, we're going to Karachi to our relatives. No one has come to help us," Allah Bakash, 50, told Reuters, who left Dadu on Thursday with his family and belongings loaded on a truck.